President Of Ecuarrunari, Carlos Pérez Guartambel, enters Ecuador with an indigenous organization issued passport
This post is also available in: Greek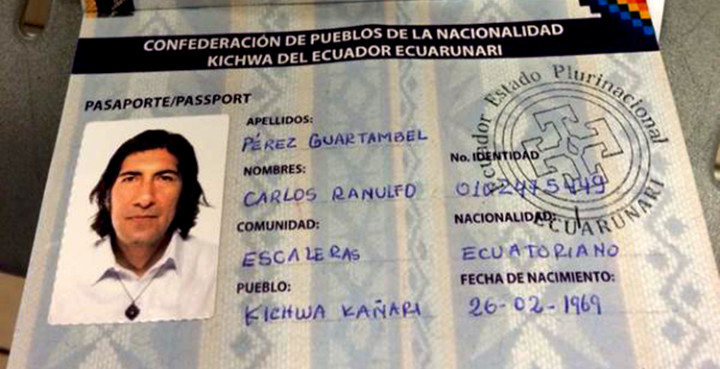 October 12, on the International Day of Indigenous Resistance, Carlos Perez Guartambel (President of ECUARUNARI, the organization of Kichwa Peoples in Ecuador) entered Ecuador with a Kichwa passport. It is the first time a passport issued by Indigenous authorities is accepted as a form of identity to enter a 'modern' nation-state, marking a historical precedent.
The immigration authorities were confused at first, saying they had never seen such a passport, and hesitated for about 30min on what to do. Perez Guartambel argued that the first Article of the Constitution defined Ecuador as a "pluri-national" state and offered an additional 20 + collective rights to indigenous peoples: an Indigenous passport was just one more form of exercising Indigenous rights. Eventually immigration officers let him through, not stamping the Kichwa passport but accepting it as a form of ID- they did stamp the immigration form nonetheless to let him enter the country. He later used the same passport to take a domestic flight between Quito and Cuenca: the passport was accepted by security and LAN officers without a comment. In a General Assembly that same afternoon, ECUARUNARI offered over one hundred passports to its members.
The successful entry of a sovereign nation-state with an Indigenous passport marks an unprecedented legal milestone in the Abya Yala. This is one more effort towards reviving Indigenous diplomacy in Latin America. The Kichwa lawyer Perez Guartambel beat state at their own game in the struggle for self-determination.
By Manuela Rozental.