OCCUPY joins Stop the Arms Fair and Campaign Against the Arms Trade for 6 day occupation of DSEi

See Facebook page for information, pictures and videos
In September, the world's largest arms fair is taking place in London. Weapons and equipment specifically designed to inflict suffering, pain, injury and death will be bought and sold in London Docklands.
Many of these weapons will be sold to countries on the UK's list of human rights abusers, to fight wars that take a huge toll on civilian populations, causing famine, starvation and poverty.
Occupy Democracy is supporting Stop The Arms Fair, Campaign Against The Arms Trade and a broad coalition of protest groups to occupy, to obstruct, hinder and ultimately, to stop the arms fair from taking place.
Stop The Arms Fair have organised an exciting calendar of events for the week of action:
Monday 7 September: Stop Arming Israel
Tuesday 8 September: No Faith in War
Wednesday 9 September: Stop the Arms Fair: Reclaim the Power
Thursday 10 September: Study War no More
Friday 11 September: Freedom of Movement for People not Weapons
Saturday 12 September: Big Day of Action!
Join Occupy the Arms Fair, from Monday 7th to Saturday 12th September where we'll mount a 24 hour presence at the gates of the Excel exhibition centre. Bring tents, warm clothing, food, good vibes and creative ideas to occupy together for a more peaceful world.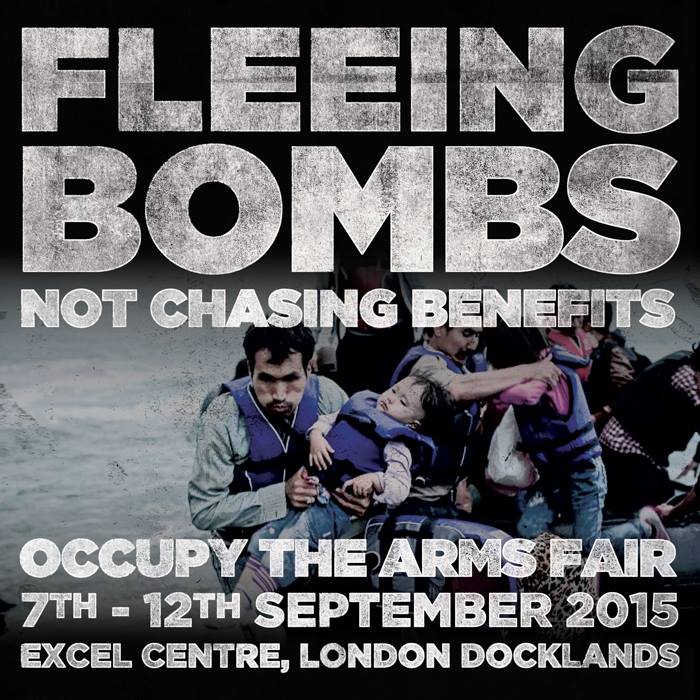 SAFER SPACES
Occupy the Arms Fair have adopted a Safer Spaces Policy, in line with the positive practice adopted by the international Occupy movement.
We are completely committed to non-violence, both physical and verbal, to each other and all others, including the police, and any non-supporters.
We are committed to being non-discriminatory and to exercising mutual respect with each other and those we have dealings with.
Whilst we respect people's right to "party and protest", Occupy The Arms Fair will be actively discouraging consumption of alcohol and inebriating drugs on the camp.
We are committed to maintaining an inebriation-free zone – We understand and respect that some people will want or need to take drugs and/or alcohol, and we show solidarity to those that suffer from the illness of addiction.
If necessary, we will designate a "wet zone" away from the camp. Please respect our decision to keep the camp sober.