Native Protest Camp in Argentine Capital Fights for Land and Visibility
This post is also available in: Spanish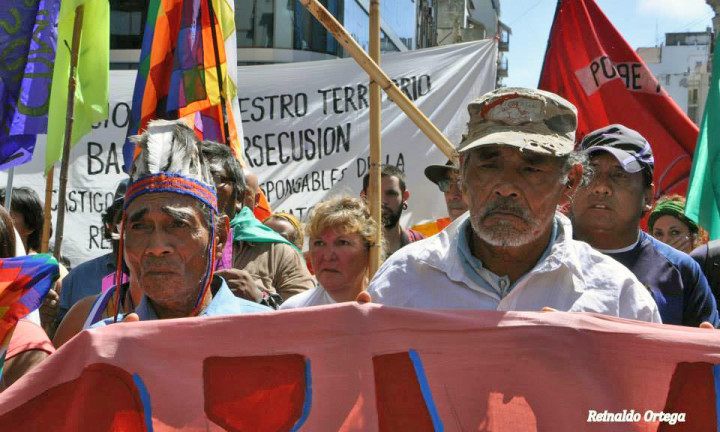 By Fabiana Frayssinet
Since Feb. 14, one large tent and several smaller ones set up on a small square at the intersection of two major avenues, Avenida 9 de Julio and Avenida de Mayo, have housed some 40 representatives of a similar number of communities of the Qom, Pilagá, Wichi and Nivaclé peoples, grouped together in the organisation QoPiWiNi.
It's the middle of the southern hemisphere winter, and IPS is talking to the protesters' spokesman, Jorge Palomo of the Wichi indigenous community.
The interview takes place in one of the compartments of the camp, where his wife and mother-in-law, surrounded by donations of clothing, blankets and food, are heating up carrot soup over a fire while his three-year-old daughter scampers around.
"We requested audiences with the national government, the Supreme Court, the Senate, and the president (Cristina Fernández)," Palomo said. "We're asking them at least to open the door. We want to explain our problems in the context of this emergency because our ancestral land that belongs to us as indigenous people has been taken from us."
The traffic is heavy and the car horns are deafening. And the demonstrators say the authorities have turned a deaf ear to their demand that they be given back 7,000 hectares of land that they say Formosa Governor Gildo Insfrán – an ally of President Fernández – "took from them."
"The territory where we live is ours, our grandparents taught us that. My grandfather told me that we can't lose our land because it gives us wisdom, strength and life," Amanda Asijak, of the Potae Napocna Navolgoh community (which means Spring in the Qom language), told IPS.
"Not long ago, some people came from Japan saying the land had been sold to them by the governor; but it's our land." — Ernestina Moreno
"But they come here and put up their boundary stones without even talking to us first," said Asijak, whose husband is the qarashe or chief Félix Díaz, the best-known figure in this struggle which became visible after a 2010 protest on the highway near his community, where two indigenous people and a police officer were killed during a police crackdown.
Díaz also organised the first camp in Buenos Aires, in 2011, set up to protest the repression they suffered. The protest ended over three months later with an agreement. But they once again took to the streets when the authorities failed to live up to the agreed terms.
In 2000, Argentina ratified International Labour Organisation (ILO) Convention 169 Concerning Indigenous and Tribal Populations, which guarantees their right to land and access to natural resources, health and education, while requiring that they be consulted with regard to decisions involving their territories.
The native protesters from Formosa are also demanding that their communities be provided with healthcare, education, running water and electric power services, as well as support for development of their cultures.
"I have four grown-up children and they have already defended our territory because they also have their own children," Asijak said. "I always say that we have to defend it because otherwise they (outsiders) move in, and when they do, they start shoot-outs in our community."
Her community, some 1,200 km north of Buenos Aires, illustrates the neglect faced by Formosa's native communities. Very few of the 350 run-down and substandard dwellings, which are home to 1,770 people on 500 hectares, have piped water or electricity, and there are no sewage services at all.
On Jul. 10, delegates of the protesters were received by the government's human rights secretary Martín Fresneda, along with 1980 Nobel Peace laureate Adolfo Pérez Esquivel and Nora Cortiñas, one of the leaders of the Mothers of the Plaza de Mayo – the group set up to search for their children who disappeared under the country's 1976-1983 military dictatorship.
Fresnada offered them talks, to listen to the demands and problems of each group.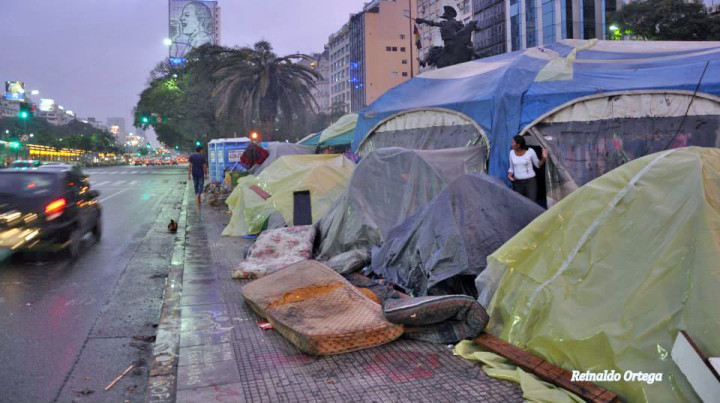 But he insinuated that there are aspects that are out of the hands of the federal government.
"We established the need to invite the province of Formosa to participate in the dialogue because territorial questions lie at the centre of the demands," the official said. "The debate centred on how much public land indigenous communities are occupying today."
Fresneda stressed that the National Institute of Indigenous Affairs (INAI) has already assessed and registered 650 communities and seven million hectares as indigenous, of the approximately 12 million hectares claimed by the native communities, equivalent to 10 percent of the national territory.
In the 2010 census, nearly one million people, out of a population of just over 40 million, identified as indigenous or of indigenous descent, from 32 different native ethnic groups.
In 2006, law 26.160 on indigenous communities declared an emergency in collective property ownership, and ordered a survey to register all ancestral territories where native communities live.
But the communities belonging to QoPiWiNi are asking for the process to be carried out in their territories again, arguing that it was done without consulting them and without their participation.
"Not long ago, some people came from Japan saying the land had been sold to them by the governor; but it's our land," Ernestina Moreno, who belongs to the Wichi indigenous people, told IPS.
The demarcation of the indigenous territories has been delayed, INAI admits, when the process involves provinces with jurisdiction over their natural resources.
Conflicts like the ones in Formosa are aggravated precisely when a province's economic interests – involving the oil or mining industries, soy monoculture, the expansion of stockbreeding, the forest industry, or large infrastructure works – are touched.
"In the case of soy, they should notify us when they're going to clear land, a very frequent occurrence, but they never do," Palomo said, to illustrate. He also mentioned infrastructure projects that run through their territory, which they were not consulted about, such as the Northeast natural gas pipeline.
"Across the country, they stole the communities' lands, and the government has decided not to listen to them," Cortiñas told IPS in an interview.
"The indigenous people from Formosa don't want a handout; they want to make a living from their work. They hunt, fish and plant, and that's how they feed themselves. They don't want to be invaded by soy, the big business opportunity for outsiders," added the Mother of the Plaza de Mayo activist.
According to GRAIN, an international non-profit organisation that works to support small farmers, more than 200,000 hectares of native forest are cleared every year in Argentina to make way for the expansion of the agricultural frontier, mainly large-scale soy production.
Formosa and three neighbouring provinces in the north – Chaco, Salta and Santiago del Estero – account for 80 percent of the deforestation.
"We want our land, to be able to get ahead. We want it for growing things, for raising our goats and other animals," said Moreno, who is camping along with two daughters and a granddaughter, who she keeps safe from the busy traffic.
A couple in a passing car on Avenida 9 de Julio do see them, and shout "We're with you! We support you!"
Palomo smiles and nods at them.
"If they don't give us back our land, they will increasingly limit our young people," he says. "There is a risk that they will no longer be able to follow our age-old cultural practices of hunting, fishing and making crafts….there is a risk we will disappear. But it seems that is what they want."