Myanmar: Crackdown and exclusion of students' education rights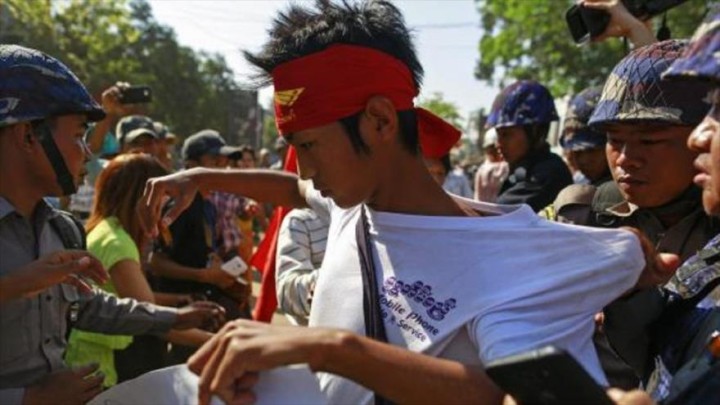 Before the riot police's crackdown on the student protesters marching some 500 kilometers from Mandalay to Yangon on 20 January 2015, their demands were very clear: the democratization of Burma's education system. When the government announced the National Education Draft Law in March 2014, it did not contain the demands of education reform campaigners who had lobbied the government since 2012.
By Noreen, intern, Asian Human Rights Commission; Danilo Reyes, editor
(Three paragraphs cut for reasons of length , for the complete article go to:
http://www.humanrights.asia/resources/journals-magazines/article2/1402/02
The Action Committee for Democratic Education made 11 demands from the government, which could ensure the realization of a democratic education system:
1. Inclusion of representatives of teachers and students in legislation process of education policies and laws, by-laws and other related laws,
2. The right to freely establish and operate student and teacher unions and legal recognition for them,
3. Establishment of National Education Commission and University Coordination Committee mentioned in the approved National Education Law
4. Self-determination and self-management on educational affairs of individual state/regions and schools
5. Modifying current examination and university matriculation system
6. Modifying teaching methods to such that ensure freedom for thinking and self-studying of students
7. Inclusion of a provision in National Education Law that ensure freedom for the practice of ethnic languages and mother tongue based multi-lingual education for ethnic populations and tribes
8. Inclusive education for all children including children with disabilities
9. Resumption of enrollment for students previously expelled from schools due to the student uprisings
10. Allocation of 20 percent of national budget for education
11. Regulating of free compulsory education up to middle school level rather than primary level
(More paragraphs cut…)
On June 25, the Pyitaungsu Hluttaw, Upper House of the Parliament, passed the Law Amending the National Education Law, but it did not include most of the student demands agreed in the quadripartite dialogue. This clearly shows that despite discussions with the students, the government is still arbitrarily making decisions, excluding suggestions from citizens to improve their way of life. Like the President, most members of Parliament and government officials are from the military. As under military rule, the present government continues to use brute force and violence to tighten control and repress those with legitimate demands.
If, as the government claims, the country is changing in a democratic way, why is it necessary to use force and violence on people with legitimate demands? Why did the government exclude student demands in the process of lawmaking and educational reform? These are important questions that the Burmese government and international community should consider. Can the Burmese expect their country to be free and fair when people exercising their fundamental rights are beaten, arrested, detained and sentenced to jail, while those violating the law are not punished, and enjoy impunity?
Contact Information:
Asian Human Rights Commission
G/F, 52 Princess Margaret Road, Ho Man Tin
Kowloon, Hong Kong
Tel: +(852) 2698 6339
Fax: +(852) 2698 6367