Anti-government protest now extends to high school students – Tipping point in Japanese politics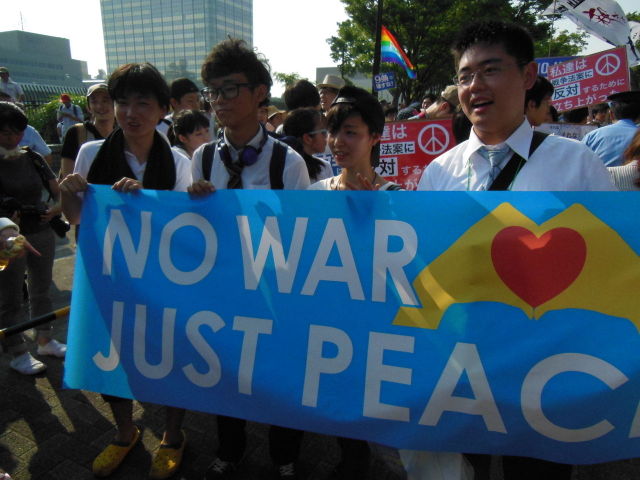 It was just two months ago that the Japanese parliament passed the bill lowering the voting age from 20 to 18 years old, that is coming into effective in July 2016. The new cohort and soon-to-be voters are now challenging the government regarding the national security bills that can potentially change Japan's long-standing position that the country does not go to wars.
In Shibuya, Tokyo, a neighborhood known as a Mecca of teen culture in Japan drew a crowd of young demonstrators on Sunday, August 2. The protest march was launched by a group of high school students, T-ns SOWL (Teens Stand Up to Oppose War Law). They circulated the announcement mainly by social networking systems, such as Facebook and Tweeter, and it's reported that there came 5000 protesters. The group encouraged their peers to come out in school uniforms, emphasizing their status of youth. The teens led the march; followed by college age protesters from SEALDs (Students Emergency Action for Liberal Democracy). Many adult protestors also joined holding the anti-government and anti-war posters. In some places, junior high school students were seen as well.
On a makeshift stage, which was set on the back of a pickup truck, teens spoke and performed a series of rap songs voicing their opposition to the government and demanding the change. A speech given by a 16-year-old high school student drew particular attention and it became the manifesto of the group that day. Her message was ingenuous, echoing the sentiment of the young crowd, and thus very powerful.
Excerpt of the speech:
"War brings a huge capital to a certain, and yet a very small group of people. For such privileged people and for their gain, the rest of us will pay the price – a country gets taken over, people are taken to fight in war and people suffer from revenge, and many lives get lost. The rest of us are the one who will go through the horror and terror. Are there any justifiable reasons why ordinary citizens like us need to hate other ordinary citizens and human beings in foreign countries and kill them (by going in wars)? It doesn't matter who the enemy is, it's always the ordinary citizens like us who will live in pain and suffering. I am speaking out not just because I don't want us to go to war, but we must protect our democracy. The reason why I stand up against the security bills is also because the government is disrespecting and ignoring the constitution and our democracy. Once we let this slip by, then a government will do whatever and whenever they want to change laws, using their own interpretations. Even if these bills gets abolished or even if this administration changes, problems may not go away. I think the geopolitics will be more unstable in the future, and risks of having more conflicts are higher. And that is why this is the time we need to stand up and we need to raise our voice (to say no to war). So then, what kind of future do we want? Taking this opportune moment where people are enthused and our call for change is at its peak, let us start having a dialogue about the future of this nation, regardless of one's faction.
Lastly, some adults say we should be studying instead of coming to demonstrations or they claim we are doing this simply to make noise. But if we don't make noise and voice ourselves now, we will, for sure, regret it later. Looking back, one may say, "I should have protested when I had a chance." Of course, there are a lot of things high school students do not know and do not understand. But it's important that we are wanting to know and we are wanting to understand. Since the bills will impact us so directly, " I don't understand it" cannot be an excuse, and high school students can't be silent about it. Grown-ups can't impose their decision on us just like that, and I won't let them determine our future, either. Today, on August 2, 2015, I hereby declare my opposition to the national security bills."