Disappearance of human rights lawyer Ms. Wang Yu and her family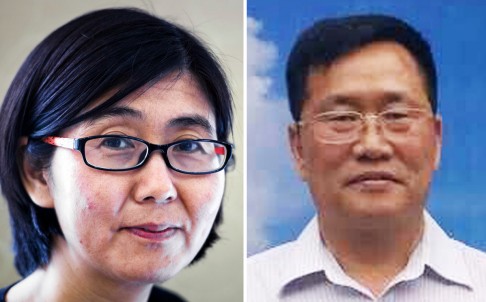 A Press Release from The China Human Rights Lawyers Concern Group (The Concern Group) forwarded by the Asian Human Rights Commission (AHRC)
CHINA: The Disappearance of human rights lawyer Ms. Wang Yu and her family. And the subsequent disappearances of her colleagues
A Press Release from The China Human Rights Lawyers Concern Group (The Concern Group) forwarded by the Asian Human Rights Commission (AHRC)
( July 13, 2015) The China Human Rights Lawyers Concern Group (The Concern Group) urgently appeals for the immediate attention of both the Chinese government and the international community on the disappearances of Ms. Wang Yu (王宇), renowned human rights lawyer based in Beijing, her husband Mr. Bao Longjun, also a lawyer (包龙军), and their 16-year old son Bao Zhuoxuan (包卓轩) since the early morning of 9 July 2015.
More alarming updates from this morning 10 July reported that four staff members of the Beijing Fengrui Law Firm (北京锋锐律师事务所) where Wang has been practising and well-known for taking up prominent human rights cases, have either been taken away by unknown individuals or simply lost track from different locations and at various points of time since 7:30 this morning. Please see chronologies attached here below for details.
Wang was last seen in a message that she sent via her mobile phone at 04:17 am, to be picked up by her friend only two hours later, stating that someone was trying to force her door open. She could not be contacted thereafter. Neighbors were quoted saying that they had seen some twenty to thirty policemen claiming themselves in an action to arrest drug addicts at around the same time. They were subsequently seen leaving the area with a person.
In another phone message written at 3 am, Wang said that power and internet had gone off in her house, that she heard people trying to pry open the door; and that since 1 am, she had not been able to get in touch with her husband and son whom she sent off to the airport earlier in the evening of 8 July. Wang's friend got information from the airport that both of them had not left China.
However, police in the district have by far either denied connection or declined to respond to the numerous enquires made by Wang's lawyers and friends.
"We have grave concerns for the safety and wellbeing of Ms. Wang and her family, and cannot help seeing this latest development as part of the continual suppression against the renowned lawyer, taking into account the recent waves of smearing against her led by the official media," said Albert Ho, Chairperson of the Concern Group.
"The Chinese government is urged to immediately clarify the status of Ms. Wang and her family. Or else, it has to explain to its people and to the international community how it, as a government, can tolerate the horrendous disappearance of a whole family without taking any action."
By far, Wang and her family have disappeared for over 24 hours. The Concern Group maintains that if Wang was arrested, the Chinese government has to make it open and ensure the public that due respect is given to the criminal procedure, and in particular that of articles 33, 83, 91 and 117 of the Criminal Procedure Law, respectively on the right to legal representative, on informing family member within 24 hours, and on the limitation of length for summons and interrogation.
While the Concern Group will follow closely the latest developments of the law firm and its members of staff, we in the meantime would like to urge the Chinese government to look into the case and take all measures to ensure the personal safety and wellbeing of Wang, her husband and their son.
The Concern Group will continue to monitor the case until all the three are released and set free. We also call for the international community and particularly the legal community to heed to and speak up on the situation of Ms. Wang and her family.
Chronologies of events
9 July 2015 (Disappearance of Wang Yu and her family)
03:00 a.m
Beijing lawyer Wang Yu (Lawyer of Fengrui Law Firm) sent out a message that she just accompanied her husband and her son to airport. The electricity at her home suddenly went off and the wireless network was also cut. Then she heard the noise of somebody prying open the door so she looked through the peephole. It was all dark and she could see nothing. Wang sometimes heard the whisper but it was unclear. Since 01:00 a.m., nobody could reach her husband Bao Lungjun and her son's phone. It is suspected that they probably had not board the plane.
04:17 a.m.
Wang Yu sent out a message again that somebody was trying to pry her door open.
06:18 a.m.
Lawyer Liu phoned Wang Yu but nobody answered the call.
06:44 a.m.
Lawyer Zhang phoned Wang Yu but could not reach her.
06:49 a.m.
Lawyer Cheng went to Wang Yu's home, knocked the door and yelled. Nobody answered but the lock was intact.
10 July, 2015 (Disappearance of Zhou Shifeng and colleagues )
07:30 a.m
Mr. Zhou Shifeng (周世锋), director of Beijing Fengrui Law Firm, where Wang has been practicing was seen forcefully taken away from his room in a hotel in theSong Zhuang district in Beijing by 3 unidentified persons. Mr. Zhou's head was covered with clothing but his voice was recognized by his friend staying in the room next to his.
08:25 a.m
Wang Fang (王方) (Beijing Fengrui Law Firm administrative financial manager) was on his way to work, but since then he cannot be reached
08:45 a.m.
In the middle of a phone conversation with Mr. Liu Xiaoyuen (刘晓原) (Beijing Fengrui Law Firm senior partner), Dr. Liu Sixin (刘四新) (Beijing Fengrui Law Firm administrative assistant) who was in the law firm suddenly said "They are here, They have someone here." Afterwards, Dr. Liu cannot be reached by phone.
Morning, exact time unknown
Lawyer Li Zhuyun (李姝云) sent a weixin while at home this morning claiming that someone was knocking at her door, but she was afraid to open it. She cannot be reached now.
For further information please contact:
China Human Rights Lawyers Concern Group (Hong Kong) K. Chan: (852) 2388 1377
# # #
About AHRC:The Asian Human Rights Commission is a regional non-governmental organisation that monitors human rights in Asia, documents violations and advocates for justice and institutional reform to ensure the protection and promotion of these rights. The Hong Kong-based group was founded in 1984.

Read this Forwarded Press Release online