Protesters Press Secluded G7 Leaders on Harmful Policies, from Crippling Austerity to Dirty Coal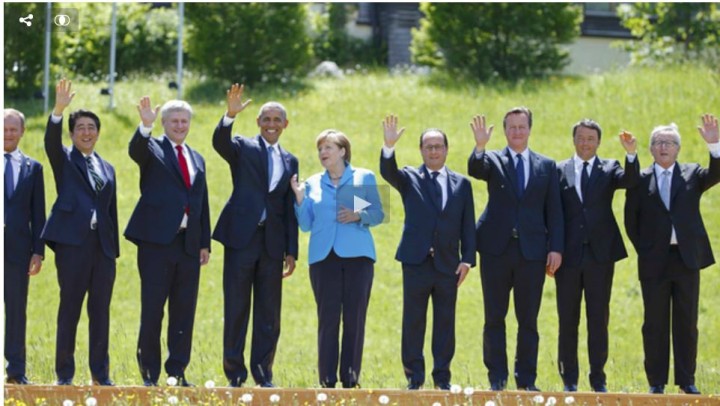 As leaders of the seven wealthy democracies known as the Group of Seven hold talks in a secluded castle in Germany, thousands of protesters have been met with 20,000 police in the largest security operation in the history of Bavaria. Issues on the G7 agenda include climate change, a $10.4 billion bailout package for Greece, and more austerity measures. We are joined by three guests: Gawain Kripke of Oxfam America, which just published the new report, "Let Them Eat Coal"; Eric LeCompte of the Jubilee USA Network; and former banker Nomi Prins, author of "All the Presidents' Bankers."
Transcript
This is a rush transcript. Copy may not be in its final form.
JUAN GONZÁLEZ: Climate change is a top agenda item as leaders of the seven wealthy democracies known as the Group of Seven, or G7, wrap up a two-day meeting in Germany today. Heads of state from Britain, Canada, France, Germany, Italy and the United States are holding talks in a secluded resort housed in a 100-year-old castle. Outside the summit, protesters have been met by a massive show of police force, with as many as 20,000 officers deployed for crowd control. Thousands of demonstrators took to the streets Saturday in the nearby town of Garmisch to oppose other issues under discussion, including the Transpacific Partnership trade deal, or TPP, and austerity measures. This is Stop G7 spokesperson, Benjamin Russ.
BENJAMIN RUSS: [translated] It's totally over the top. And one has to see that the way we have been walking in the streets and have organized ourselves well. The camp was well organized. This massive police presence is totally over the top.
JUAN GONZÁLEZ: On Sunday, leaders and reporters had to be shuttled to the G7 talks by helicopter after protesters blocked a main road. Today, the summit host, German Chancellor Angela Merkel of Germany, is seeking endorsement of goals to limit the increase in global temperatures and to provide financing to countries dealing with the impact of climate change.
AMY GOODMAN: Talks are expanding today with the addition of several African leaders, and Iraqi Prime Minister, Haider al-Abadi, who is set to meet with President Obama. Meanwhile, a $10.4 billion bailout package for Greece has been a central focus among the country's creditors attending the summit, including heads of the European Union, European Central Bank and the International Monetary Fund. Greek Prime Minister Alexis Tsipras is in attendance — is not in attendance. Neither is Russian President Vladimir Putin, as leaders agreed to continue sanctions against Russia over its aggression in Ukraine. Well for more we're joined by three guests. Joining us from Garmisch, Germany, near the G7 Summit, is Gawain Kripke, the Director of Policy and Research at Oxfam. They've just published a new report called "Let Them Eat Coal" which notes the G7 countries remain major consumers of coal which is the biggest driver of climate change and world hunger. In Washington, D.C., Eric LeCompte is the Executive Director of Jubilee USA. He was recently in Dresden, Germany, for the G7 Finance Ministers gathering. And here in New York, Nomi Prins, former Managing Director at Bear Stearns and Goldman Sachs, and previously an analyst at Lehman Brothers and Chase Manhattan Bank, now a distinguished senior fellow at Demos. She is also the author of, All the Presidents' Bankers: The Hidden Alliances that Drive American Power. Last week, Nomi Prins was invited to address global central bank leaders at the Federal Reserve and IMF's annual conference. We welcome all of you to Democracy Now! Let's first go to Garmisch, to Bavaria to Gawain Kripke. Can you talk about the massive protest that is going on outside, met by an even larger police presence, believed to be the largest police operation in Bavarian history? Why people are protesting the G7 summit, Gawain.
GAWAIN KRIPKE: Well, it's a very energetic protest. It started in Munich a few days ago and then has moved up here to the mountains. It's a wide diversity of complaints that the protesters have against the G7. I would say the biggest one that I observed was a real concern about the real free trade agreement that is being negotiated between Europe and the United States with a concern among the protesters that it would be pushing lower standards for things like energy efficiency and food safety onto European markets. So a real resistance to that trade agreement from the protesters. But also, protesters concerned about climate change, about global poverty, and a range of other issues.
JUAN GONZÁLEZ: And on the issue of global poverty, what are some of the concerns that you feel from Oxfam are not being addressed by the summit?
Read the full report in Democracy Now!