Hong Kong at another crossroad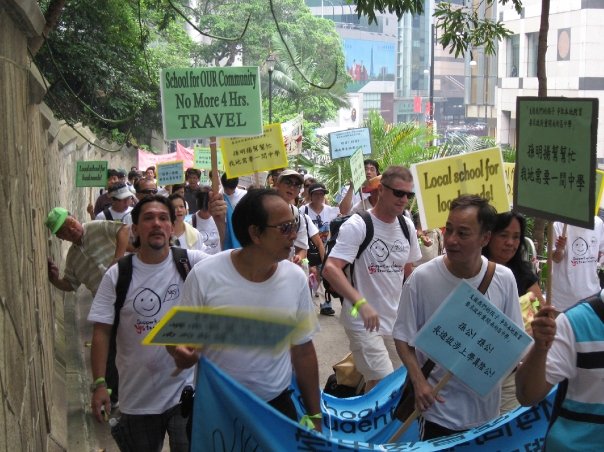 This year, leaders of student unions at several universities have decided not to attend the vigil commemorating the 1989 Tiananmen Crackdown, always held at Hong Kong's Victoria Park. This is in protest at one of the main organiser's – the Alliance in Support of Patriotic Democratic Movements of China – slogans: to "build a democratic China".
The diverse groups are still holding their own protest assemblies and the vigil is going ahead though without the usual visual solidarity. Most students who toe their union's line will be in their respective campus'.
A new element is the 'localism' counter force where those who want Hong Kong to stay out of mainland affairs will be voicing their views which are opposed to such as the democratic camp of the Legislative Council with their hardline stance to vote down any acceptance of Beijing's recently rejigged electoral reform plan – the package for the 2017 chief executive election based on the National People's Congress Standing Committee's decision on August 31, 2014.
Localism does not have a very large active following but the excesses of the spin-offs of that movement have seen physical assaults on mainland tourists and weekend demonstrations against quite innocent visitors from the mainland who surely were shocked given they hold something of a paradisial image of Hong Kong and came on shopping-holidays.
The term localism, also "nativists", has emerged in the local political lexicon to refer to people who share the sentiment of focusing solely on Hong Kong affairs to the exclusion of all things national amid a growing anti-mainland sentiment.
Yes, locals are fed up with jammed shops and an actual scarcity of certain goods which purchase is not just by tourists but most damaging, by grey good traders from both sides of the Hong Kong-Shenzhen border. These traders make a business out of taking the assumed safe goods originating in Hong Kong as a precaution against the widely held view that Mainland goods are often contaminated – with sad examples proving that is at times true.
The result has been a sizeable drop in retail sales revenues, clearly owing to the changes in regulations disallowing so ready access to this territory by mainlanders and that, plus the damage done to Hong Kong already tough sales staff reputation – seen as rude and aggressive – but accepted locally as a result of living in this hard-nosed city and the directness of Cantonese attitudes.
Most media reports blame the Occupy activities. As can be imagined these splits dividing the Hong Kong people are a cause of concern by the administration here, besides by Beijing, so sensitivity is high and calls for democracy are fraught with resonances that outside powers against Socialism and Communism will use the fragmentation to develop their respective agendas.
Thus we see the tycoons flocking together, betraying their self-interested competitive cores, to demand the pan-democrats accept Beijing's changes and let the election proceed accordingly. It has to be asked just what is their real interest (pun unintended but…), is this set in gaining a higher quality life for the people of Hong Kong in the majority?
What is making the difference now in Hong Kong is the cumulative effect of what resulted in the Umbrella Movement so recently – pro-democracy protests began in early September of 2014. This did not come out of the blue. It is related to Tiananmen – over a million took to the streets in Hong Kong back then in 1989. Also, before the Umbrella Movement, the October 2011 Occupy activities that began at the IFC complex and moved to the ground floor HSBC's Central HQ – and lasted an entire year, more than anywhere else in the world!
Beijing is well aware of what is taking place in Greece with its ant-austerity underdogs gaining first place in Greek elections; the victory of Podemus in Spain, also anti-austerity; the Arab Spring movements sadly taken over by the violent militias with other intentions.
These movements in their seed moments were aligned with socialist, general welfare ideals as are the anti-one-percenters. But this points at Beijing's own internal divisions, roughly stated as the revolutionary leftists against the capitalist leaning counter-revolutionaries now into the big money.
This is the real turmoil that the young people of Hong Kong are caught up in, students, workers and unemployed alike. It was well learned during the Umbrella Movement interchanges that democracy entails participation at all levels and inclusion in decision making. Beijing is not ready for this now and the question boils down to one of trust.
If a person or group is willing to trust Beijing then the elections can go ahead accepting promises of real democracy in the future, if not, then a spanner is thrown into the works and no one knows the outcome.
A point to ponder is Beijing's version of democracy. Hong Kong does not have democracy but it functions very well in most regards and it could keep on this track, co-operate with Beijing and take chances. Or, it can demand real democracy now – not just voting for the Chief Executive which is a minor matter if his or her powers are truly resting on people's choices – and all the mess and chaos that will follow.
But that's political freedom; at least everyone will be part of the show, they will feel much better and can reach for self-realisation in a place they can call home and be Hong Kong Chinese into the bargain.