Ecuador: Forensic analysis throws argument of fraudulent ruling out the window for Chevron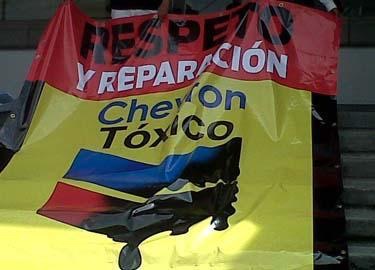 Quito, Abril 1 (Andes).- A new forensic analysis appears to completely undermine the testimony of Chevron's star witness in the Ecuador pollution case and suggests the oil company falsified evidence about the authorship of the Ecuador trial judgment to evade paying its $9.5 billion liability, according to legal filings presented recently to an investor arbitration panel
The new forensic report, prepared by the American J. Christopher Racich, found extensive evidence to support the testimony of Ecuador trial judge Nicolas Zambrano that he wrote the 188-page decision that found Chevron liable for the dumping of billions of gallons of oil waste into the waterways forests of the Ecuadorian Amazon. Ecuador's Supreme Court unanimously affirmed Zambrano's findings in 2013, but Chevron has refused to pay the judgment despite agreeing to litigate the matter in the South American nation.
The Racich Report – which was completed in 2014 for a related investor arbitration dispute between Chevron and Ecuador's government – concluded that the judgment was written painstakingly over a period of months on Zambrano's office computer, directly contradicting the claim of Chevron's witness that it was written elsewhere and then given to the judge on a flash drive just before it was issued.
Chevron's "evidence" was the oral testimony of crooked former Ecuadorian judge, Alberto Guerra, to whom the company paid more than $2 million in cash and benefits. The villagers and their lawyers have long asserted Chevron's payments were essentially a bribe in exchange for false testimony, violated federal law, and rendered Guerra's assertions not credible.
"This latest report is the final nail in the coffin for Chevron's fraud narrative and begs the question of when Chevron's lawyers crossed the line from zealous client advocacy to actual falsification of evidence," said Hinton.
The High Court of England recently determined that Gibson Dunn & Crutcher falsified evidence in another case while several courts in the United States have sanctioned the firm for its unethical litigation tactics.
The Racich Report is also a significant setback for Chevron both in its retaliatory civil "racketeering" case against the villagers in New York and in enforcement actions abroad where the Ecuadorians are trying to seize company assets to force compliance with their judgment. In New York, U.S. Judge Lewis A. Kaplan had ruled for Chevron in 2013 in a controversial non-jury proceeding largely based on Guerra's false testimony, but that decision is under appeal.
pc/ar