Evo Morales Highlights Latin America Unit to the United States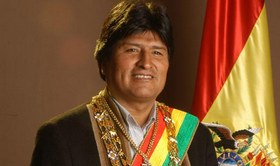 La Paz, Mar 17 (Prensa Latina) Bolivian President Evo Morales, today stressed that the countries of Latin America are closer than ever to the policy US government seeks to impose.
From Cobija, capital of the Amazonian department of Pando and shortly before leaving for Venezuela to participate in a meeting of the Bolivarian Alliance for the Peoples of Our America (ALBA), Morales said there is more unity than ever before Washington's positions.
'We are uniting among Latin Americans. First rejected the Unasur (Union of South American Nations) the threat of interference and intervention, now the ALBA countries, then it will CELAC (Community of Latin American and Caribbean States), but also non-aligned countries that are part of them ', he said.
Morales's trip to Caracas was planned for last night, but finally he traveled at dawn from Amazonian city.
Both the Bolivian leader as other members of the ALBA will seek a common position for presentation at the Summit of the Americas, scheduled for 10 and 11 April in Panama, given the determination of President Barack Obama to declare Venezuela ' a threat to US security '.
For Morales, the US must change its actions, because if it does not, all countries surely defend its sovereignty. He recalled that in the case of Bolivia, in short time, a political and economic liberalization that allowed consolidated the country is better and can develop.
We are now better, before we were submitted to the United States politically, economically to the World Bank and the International Monetary Fund. Bolivia was a beggar state, had no chance to develop, some presidents said Bolivia was dying and spoke of failed state, he said.
Earlier this month, US President considered Venezuela a threat to national security, a position which has found the rejection of many governments and personalities of the region and the world.
In Bolivia, members of the executive and legislative branches, in addition to leaders of social movements, criticized Obama's stance and demanded respect for Venezuela and President-elected of that country, Nicolas Maduro.