5th International Uranium Film Festival starts April 15 in Canada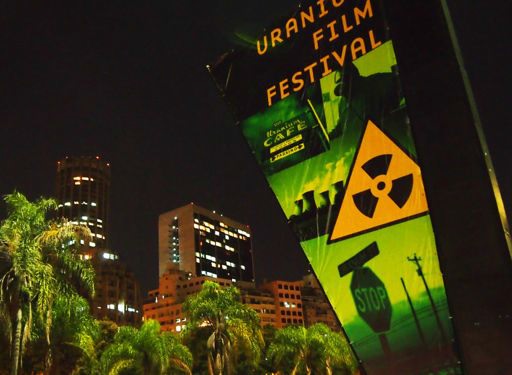 From Rio de Janeiro to Quebec City, Mistissini and Montreal
The 5th International Uranium Film Festival 2015 – a Film Festival about Nuclear Power – will happen this year from April 15 to 25, 2015 for the first time in Canada, in Quebec City and two other cities in Quebec and later in July it will be in Rio de Janeiro.
The International Uranium Film Festivals has reached its 5th year. In his short history it has screened hundreds of nuclear and atomic films in Rio de Janeiro and other cities. The festival already traveled to 3 continents and 6 countries. It was has been hosted in capital cities such as Amman, Berlin, Lisbon, New Delhi, Washington, Window Rock and important cities like New York, Santa Fe, Munich, Mumbai, Hyderabad and São Paulo.
Now in 2015 the 5th International Uranium Film Festival starts for the first time in Canada, Quebec. It is dedicated to the 70th anniversary of the first explosion of an Atomic Bomb and the bombing of Hiroshima & Nagasaki in 1945.
The festival runs from April 15 to 25 in Quebec City, Concorde hotel, together with the World Uranium Symposium. In addition special screenings will also happen April 20 in Mistissini, the largest community of the James Bay Crees in Quebec, and April 23 in Montreal. The films selected for the Uranium Film Festival 2015 compete for the festival's "Yellow Oscar Award" in different categories. The winners will be announced on Saturday evening, April 25th, at Award and closing ceremony of the festival in Quebec City.
After the festival in Quebec, the International Uranium Film Festival continues in July in Rio de Janeiro and in October in Florianopolis (Brazil).