Tribute to the life of Mary Shaver Hobi
This post is also available in: Spanish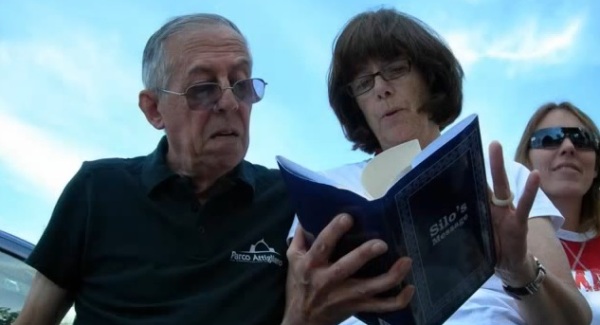 A memorial service took place today, 24th January, 2015 for Mary Shaver Hobi who passed away in November last year after a very short battle against a cancer that was discovered too late and was too malignant to treat effectively.
Mary Shaver Hobi was a life-long Siloist, travelling the world in the project of humanising it, and one of the driving forces behind the Red Bluff Park of Study and Reflection in California, USA.
Friends from the USA were accompanied by others around the world also remembering the life of this extraordinary woman who Silo, the Argentine spiritual guide called "His Rock".
She is survived by her two children Paul and Kadi.
The text below has been prepared in Mary's memory by her friends in Red Bluff Park.
A Celebration Of The Life Of Mary Shaver Hobi
Today we celebrate the life of our dear friend Mary Shaver Hobi who began her transcendental Journey on November 20, 2014.
Mary was a loving mother to her son Paul and daughter Kadi and a loving friend to so many people throughout the World. From her immediate family to her longtime friends, Mary's life was an expression of her true love for people and her unwavering dedication to the teachings of Mario Rodriguez Cobos, Silo.
Mary was instrumental in the creation of the Park of Study and Reflection in Red Bluff California, a center dedicated to personal and social transformation and whose foundation rests on the teachings of Silo. Mary's guiding principle in life was the Golden Rule –  of treating  others in the way that one likes to be treated.
Mary travelled the world in the practice of her quest for a more human world and worked on many different projects that took her to East Africa, Chile, Argentina, Italy, Spain and India to name just a few.
Through the example that she gave, of living a unitive life,  and the projects that she set in motion, that continue to develop today, Mary's impact on the world will only grow stronger and more prolific as time goes on.
We are so very grateful for the true friendship that Mary shared with us throughout the many years we had together and we celebrate her life today with the most profound asking for peace in all of our hearts and light in our understanding.
Friends at The Park of Study and Reflection
Red Bluff, California USA
Saturday November 24, 2015