Thumbs down to Profs. plea to accept Nuclear Power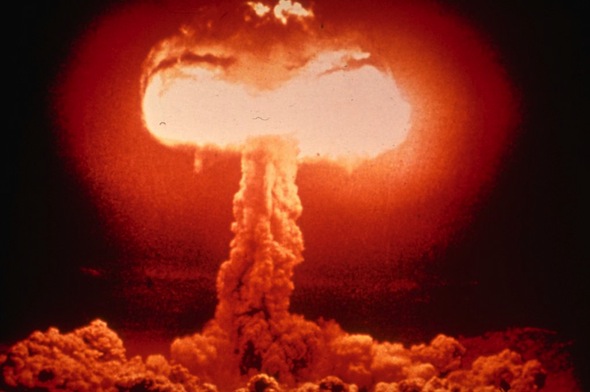 Hitting the news on both pro-environmental cleanliness and anti-nuclear power media channels was an appeal by no-less than seventy-five professors of various persuasions that pleaded with the 'Greens' to accept nuclear power.
In the end it was concluded that nuclear power and nuclear weapon's proliferation were inseparable and it is 100% guaranteed nuclear conflict would devastate the environment – so it's a no.
Climate News Network broke news of the story by Paul Brown, quote: "Seventy-five professors from the world's leading universities have signed a letter urging environmentalists to re-think their attitude to nuclear power as a way to save the planet from climate change and preserve its animals, plants and fish."
The two Australian academics who came up with the research reflect views of a government that has… "repudiated the Kyoto Protocol, reversed measures to cut climate change, is one of the world's biggest coal exporters, and has no nuclear power," the article read.
These were Barry W. Brook, Chair of Environmental Sustainability at the University of Tasmania, and Corey J.A. Bradshaw, Sir Hubert Wilkins Chair of Climate Change at the University of Adelaide's Environment Institute. Backers include many leading experts on ecology, biodiversity, evolution and geography from the US, UK, China and India.
No doubt the letter is significant as pointed out because previous pleas for a role for nuclear power have mostly come from physics professors, who could reasonably be said to be bound up in the industry.
This group of seventy-five has no stake in nuclear power, and their argument is based purely on the need to save the planet and all of us including the fauna and flora from the effects of planetary warming and excessive and improper use of land – as they have agreed to see it – for implementation of renewable energy solutions.
Wind vs Nuclear!
Professors Brook and Bradshaw have identified that wind and nuclear power had the highest "benefit-to-cost ratio", by way of their manner of reasoning. This surprises many interested parties in this long-time-ongoing-debate that is increasingly baffling the average person who look to get clarification from the responsible ones, or authorities, or experts, however one may decide to call them.
Comparing the present reality of clean wind power generation with dangerously dirty nuclear power generation and even that using unproven and futuristic examples, is suspicious indeed. Are these bright people being conned by an industry only interested in perpetuating itself?
Indeed the Greenies will go along with your advice – "…we entreat the conservation and environmental community to weigh up the pros and cons of different energy sources…"
It has to be retold that the energetic sustainability of nuclear power is only in the sense of its near infinite capability of supply, but that is not taking into account the effects of that entropic and continuous recombination of those highly active elements, in everyday use; absolutely devastating for life as we know it.
Nuclear weapons
Sadly, we, as a human race, are not ready for unlimited amounts of energy, the evidence only too clear in all the wars and conflicts and highly polluting consumerism as experienced today.
To repeat the quotes in the original article that come from an informed source: "Dr Jim Green, writing in the Ecologist magazine, makes the point that nuclear power and nuclear proliferation go hand in hand: 'Even a modest exchange of nuclear warheads could profoundly affect biodiversity, and large scale nuclear war certainly would.' "
"Dr Green also attacks the paper for endorsing fast breeder reactor techclimate change, CO2, nology as the solution to climate change. He says that the 'fast reactor techno-utopia presented by Brook and Bradshaw is theoretically attractive', but has already been tried unsuccessfully, and cannot be made to work in the real world."
Indeed, the letter has attracted a wide variety of comments. Some supportive, but others say that the professors have ignored one of the greatest threats to the planet—a nuclear war.
On Climate Change
But to add controversy to the controversy, climate change is being mis-sold not as a phenomenon itself but in regard to its amelioration. As my learned neighbour Robert Hanson (PhD. Built Environment) puts it:
"… most columnists state reduce C02/carbon footprint to improve air quality (AQ) – this is completely wrong.
"A person or organisation can be carbon (CO2 neutral) by planting loads of trees – the trees absorb the C02 and grow faster (because C02 is good) – but they do not take up the real harmful pollutants – the pollution remains – the system has been set (by the Bilderberg group + UN – who funnel money to WWF, FOE, etc) to promote low C02 and redefine carbon emissions to only include C02 – this allows industry to pollute at will and be carbon neutral at the same time – we are all being conned – and taxed to hell on the wrong thing!
"Much of the money goes to WWF, FOE, and universities for climate research – the climate group funded by carbon traders is a big player – real environmental issues have been assassinated and the public are being cheated – from banning safe incandescents as lightbulbs to attacking C02."
http://www.truthdig.com/report/item/professors_plead_with_greens_to_accept_nuclear_power_20141226