Grand Jury Fails to Indict NYC Police Officer Pantaleo
This post is also available in: Spanish, Italian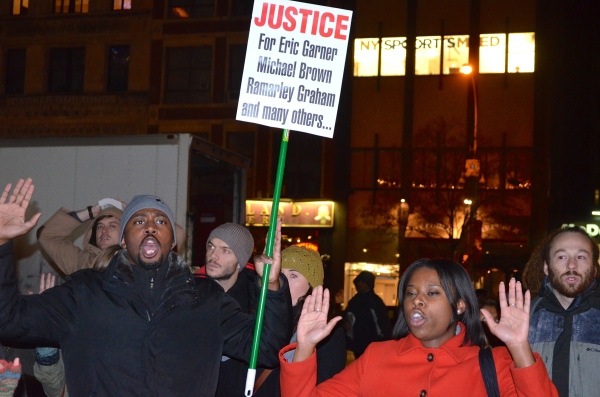 Wednesday Dec 3rd, protesters poured onto the streets following a grand jury's decision not to indict NYC Police Officer Pantaleo on murder charges for killing unarmed Staten Islander Eric Garner.
Protesters rallied at Union Square and Columbus Circle and marched to Times Square, 47th Street, up Broadway and tried to disrupt the Christmas tree lighting ceremony at Rockefeller Center, but the NYPD would not let the them get anywhere near the celebration but people remained on the streets some distance away chanted, "Black Lives Matter" "No Racial Police, No Justice, No Peace" "We want a public trial/all we've gotten is denial." And then: "I can't breathe" — Garner's final words.
The cause of Garner's death was "compression of neck (chokehold), compression of chest and prone positioning during physical restraint by police," the medical examiner's office has said. The New York City Police Department prohibits chokeholds. The death was ruled a homicide.
During the fatal encounter July 17 on Staten Island, Garner raised both hands in the air and told the officers not to touch him. Seconds later, a video shows an officer behind Garner grab him in a chokehold and pull him to the sidewalk, rolling him onto his stomach.
Nationwide, a black man is killed every 28 hours by law enforcement.
The fact that a black person is killed by a police officer, security guard, or vigilante every 28 hours (or less) is no random act of nature. It is the inevitable result of institutional racism and militaristic tactics and thinking within America's domestic security apparatus. –
more
Rally at Foley Square tomorrow, Thursday at 5:30 pm.
#BlackLivesMatter #ICantBreathe #ericgarner