Stealing Palestine: Who dragged Palestinians into Syria's conflict?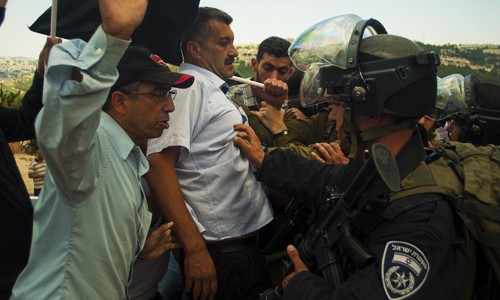 Palestinians didn't jump into the fray in Syria. They were dragged into it – violently and reluctantly. Here is the story of how and why Palestinians and their 14 refugee camps became strategic targets in the Battle for Syria – and who stood to gain politically and militarily from all the destruction. Moreover, this is a story told from inside the camps, in the words of Palestinian factions, NGOs, refugees and fighters alike.
Stealing Palestine: Who dragged Palestinians into Syria's conflict?
My first visit to Yarmouk took place a few days after 20 people were killed in the Palestinian camp's first major shelling incident on August 2, 2012. Residents showed me the damage caused by the first mortar – which hit the roof of a small apartment building not far from Tadamoun, a Damascus suburb where rebels and security forces were clashing daily.
As bystanders rushed to investigate the damage, a second shell hit the narrow street outside where onlookers had congregated, killing and injuring dozens.
Foreign media headlines suggested the Syrian government was shelling Yarmouk, but Palestinians inside expressed doubt. Some said these were rebel mortars from adjacent neighborhoods, but it was clear nobody could provide definitive answers for what may simply have been a series of stray shells.
Yarmouk, once home to around a million Syrians and 160,000 Palestinian refugees, was an oasis of calm that summer day of my visit.
By contrast, driving through rebel-occupied Tadamoun, Yalda and Hajar al-Aswad on my way in and out of the camp, one could only gape at the burned buildings and vehicles, shuttered shops, rubble in the streets and makeshift checkpoints dotting these new conflict zones.
Return to Yarmouk
A year-and-a-half later, in March 2014, I visited Yarmouk again. The camp is unrecognizable now, and the pictures we see don't do justice to the damage.
At the entrance of the camp, I was greeted by armed Palestinians who are part of a 14-group 'volunteer force' formed for the purpose of protecting Yarmouk and ejecting the rebel fighters deep inside the camp. The group falls under the umbrella of the Popular Palestinian Committees for the Liberation of Yarmouk.
When I ask them where they're from, in rapid-fire, one after the other, they tell me,"Safad, Lubya, Haifa, Tiberias, Jerusalem, Acca," though, of course, they're too young to ever have been to any of these places. That's where their parents or grandparents hail from. That's where they intend to return one day.
There's a lone Syrian among them. He was raised in Yarmouk and is a Palestinian as far as he's concerned.
The stories these fighters tell me is nothing I have read in English, or in any mainstream publication outside Syria. Theirs is a story that is black-and-white. Thousands of Islamist fighters invaded and occupied Yarmouk on December 17, 2012, and Palestinians and Syrians alike fled the camp, literally beginning the next day.
The militants, they say, systematically destroyed the camp, killed people, looted homes, hospitals – anything they could get their hands on. They insist that the rebels could not have captured Yarmouk without the help of Hamas, and are convinced that Hamas supporters are still inside the camp, now members of Al-Nusra Front, AknafBeit al-Maqdes, Ohdat al-Omariyya, Ahrar al-Yarmouk, Zahrat al Mada'en and other rebel groups that they say occupy the camp. They claim Hamas employed and provided financial assistance to displaced Syrians who escaped conflict elsewhere and settled in Yarmouk.
"They hired them for this conflict," says one.
The finger-pointing at Hamas persists throughout all my conversations with refugees in the three separate camps I visit in Syria. While all Hamas officials exited the country early on in the conflict, the fact remains that many Palestinians affiliated with Hamas did not. On the outside, we understand Hamas is not there, but within the camps, Palestinians identify the individuals they accuse of sedition as "Hamas people."
This blurred line has provided Hamas' political leadership with 'plausible deniability' against accusations that it has aided Islamist rebels in the camps.
The fuzzy lines first became clear to me in the autumn of 2011 when a Hamas official confided that they had to "remove some people" from these areas who were displaying increasing sympathy with the Syrian opposition.
But back to the Palestinian fighters in Yarmouk…
Read more: http://rt.com/op-edge/203907-palestine-syria-shelling-clashes-conflict/