Mexico Burns as Outrage over Student Disappearances Sparks Protests Against State-Backed Violence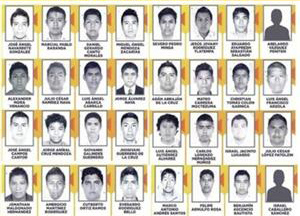 Protesters in the Mexican state of Guerrero have set fire to the local legislature as outrage spreads over the disappearance of 43 students. The students from Ayotzinapa teacher's college have been missing for nearly seven weeks after they were ambushed by police. Unrest has intensified since Mexican Attorney General Jesús Murillo Karam announced Friday that suspects in the case have admitted to killing the students and incinerating their bodies at a trash dump. More than 70 people have been arrested in the case, including the mayor of Iguala, who is accused of ordering the police attack. Across Mexico, tens of thousands of people have taken to the streets in peaceful protests, while groups of demonstrators have laid siege to government buildings, burned cars and blocked highways. The parents of the missing students, meanwhile, have announced they will be traveling across parts of Mexico in three caravans to demand their loved ones' return. We are joined from Chilpancingo, the capital of Guerrero state, by John Gibler, an author and independent journalist. "I don't think it's possible anymore to talk about corruption," Gibler says. "What we have is two sectors of an industry that have fully merged — the police and the organized crime gangs themselves."
Transcript
This is a rush transcript. Copy may not be in its final form.
NERMEEN SHAIKH: We begin today in Mexico, where protesters in the southern state of Guerrero have set fire to government buildings, including the state legislature, as outrage spreads over the disappearance of 43 students. The students from Ayotzinapa teachers college have been missing for nearly seven weeks, after they were ambushed by police. The initial series of attacks killed six people, one of whom was found with the skin of his face peeled off.
Unrest has intensified since Mexican Attorney General Jesús Murillo Karam announced Friday that suspects in the case have admitted to killing the students and incinerating their bodies at a trash dump, leading investigators to remains. He says the mayor of Iguala ordered the attack by police, who then turned the students over to a local drug gang.
AMY GOODMAN: Tens of thousands of people have taken to the streets in peaceful protests, while groups of demonstrators have laid siege to government buildings, burned cars, blocked highways across Mexico. On Wednesday, students blocked access to an airport in the state of Michoacán and took over highways in the southern states of Oaxaca and Chiapas.
In Guerrero, multiple mass graves containing dozens of bodies have been uncovered by authorities searching for the students. But a team of Argentine forensic experts has said none of the remains they've examined so far match the students. The most recent set of remains, found in trash bags, which authorities say were burned at a garbage dump, have yet to be analyzed.
Read the full transcript in Democracy Now!