Major powers must learn trust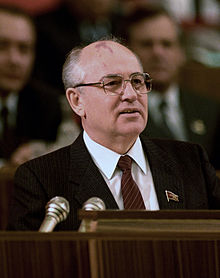 Former Soviet President Mikhail Gorbachev visited the former Berlin Wall border crossing point Checkpoint Charlie, November 7, 2014.
At one of functions marking this commemorative day he remarked that tensions between the major powers have pushed the world closer to a new Cold War.
At 83 and still looking strong he accused the West, particularly the U.S., of giving in to 'triumphalism' after the collapse of the Soviet Union and the breakup of the communist bloc twenty five years ago. The result could partly be seen quite a time ago in the inability of the global powers to prevent or resolve conflicts in Yugoslavia, the Middle East and most recently in Ukraine.
"The world is on the brink of a new Cold War. Some are even saying that it's already begun," Gorbachev announced to a captive audience in an auditorium close to the city's Brandenburg Gate.
Gorbachev was mainly speaking to the West when he called for trust to be restored through dialogue with Moscow, and suggested the West should lift sanctions imposed against senior Russian officials over the country's support for separatist rebels in eastern Ukraine. Failure to achieve security in Europe would make the continent irrelevant in world affairs, he said.
Report using extracts from various news agencies.