PNND Council member becomes new EU Foreign Minister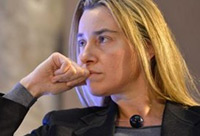 Parliamentarians for Nuclear Non-Proliferation and Disarmament (PNND)

Dear Friends

The past two months have been exciting for PNND. Members have taken action around the world to highlight the first International Day for the Total Elimination of Nuclear Weapons. And we have elevated the nuclear disarmament issue at the United Nations, European Union and Inter Parliamentary Union.

PNND Council member becomes new EU Foreign Minister

PNND Council member Federica Mogherini was appointed as the next 'Foreign Minister' of the European Union (official position is the High Representative of the European Union for Foreign Affairs and Security Policy).

Prior to her appointment, Mogherini served as foreign minister of Italy. She has been a member of PNND since she first became a member of parliament in 2008, and has served on the PNND Council since 2010. She has also become a member of the European Leadership Network for Multilateral Nuclear Disarmament and Non-Proliferation, and of the CTBT Group of Eminent Persons. Ms Mogherini has played an active role in PNND, endorsing a number of PNND member-led initiatives including the Parliamentarians Declaration Supporting a Nuclear Weapons Convention and the Joint Parliamentary Statement for a Middle East Free from Nuclear Weapons and all other Weapons of Mass Destruction.

PNND Co-President elected President of IPU

On October 16, PNND Co-President Saber Chowdhury was elected to be the new President of the Inter Parliamentary Union – the international organisation of parliaments. (Watch our video interview with Mr. Chowdhury)

Chowdhury, a former Amnesty International 'Prisoner of Conscience', has been active internationally on nuclear disarmament, climate change, human rights and sustainable development issues. He has also advanced these key issues in his national parliament in Bangladesh. He was instrumental in the adoption and implementation of legislation in Bangladesh on integration of lepers into society, criminalizing custodial torture, and prevention of violence against women and children. He was also instrumental in the adoption of a constitutional amendment to protect the environment and biodiversity for current and future generations. (See Saber Chowdhury candidature for IPU Presidency)

Parliamentary actions on global nuclear abolition day

Parliamentarians around the world took action to support the first International Day for the Total Elimination of Nuclear Weapons on September 26, 2014 through joint statements, parliamentary resolutions, video messages and social media promotion.

In the European Parliament, members from six of the seven political groups in parliament signed a joint statement initiated by PNND European Parliament Section welcoming the day. In North East Asia, parliamentarians from seven political parties in Japan (government and opposition) and from both government and opposition parties in the Republic of Korea, signed a joint statement initiated by the PNND Japan and PNND Korean Sections to commemorate the day. In Costa Rica the parliament adopted by consensus a resolution submitted by PNND members Natalia Díaz Quintana and Michael Arce Sancho welcoming the day. In Bangladesh parliamentarians used the occasion to establish a section of Parliamentarians for Nuclear Non-proliferation and Disarmament (PNND Bangladesh). Resolutions were also adopted by the parliaments of Cuba (submitted by PNND Member Yolande Ferrer Gómez) and Nicaragua.

The Inter-Parliamentary Union released a press statement on September 26 renewing its call on parliaments and MPs around the world to promote nuclear disarmament and non-proliferation as a matter of urgency, and encouraging its members to take part in the UNFOLD ZERO campaign.

Parliamentarians also promoted the day through social media, and participated in the UNFOLD ZERO public action – asking a range of people in public places 'How many nuclear weapons do you think are in the world?' and 'How many nuclear weapons do you think should be in the world?'.

IPU workshop on Good Nuclear Disarmament Practice

On 17 October 2014, the World Future Council (WFC), together with PNND and the Inter-Parliamentary Union (IPU), organised a one-day international Workshop for parliamentarians on Good Nuclear Disarmament Practice at the IPU Headquarters in Geneva, Switzerland. The Workshop, which was held following the conclusion of the 131st IPU Assembly, brought together parliamentarians from over a dozen countries (from Africa, Asia, Europe, Latin America and the Middle East) to examine examples of good parliamentary practice on nuclear weapons prohibition, nuclear weapons financing, phasing out the reliance on nuclear deterrence, and supporting multilateral nuclear disarmament initiatives. Drawing on a range of good nuclear disarmament practice, the Workshop also supported the implementation of the IPU Resolution Towards a Nuclear Weapons Free World: The contribution of parliaments, adopted in March 2014 at the 130th IPU Assembly. See the workshop report.

Yours sincerely

Alyn Ware
PNND Global Coordinator
On behalf of the PNND Coordinating Team

Parliamentarians for Nuclear Non-Proliferation and Disarmament (PNND) is a global network of legislators working on a range of initiatives to prevent nuclear proliferation and to achieve a nuclear weapons free world.