[media-credit name="http://srsg.violenceagainstchildren.org" align="alignleft" width="160″]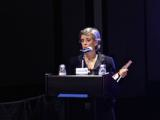 [/media-credit]More than 800.000 children were involved in the numerous consultations held across the world on the future sustainable development goals. The report just launched by SRSG Santos Pais in New York captures the richness of children's opinions and their recommendations for the future. "The message from the children involved in the consultations has been clear and unambiguous: violence is a major obstacle to child development and it urgently needs to be brought to an end!" – she said.
Children rank protection from violence as the second highest development priority, immediately after education. They see the necessity of ending violence against boys and girls as a key dimension to ensure the success of several sustainable development goals, especially in relation to education, health, gender equality, poverty, economic growth and employment, safe and sustainable cities and peaceful societies.
[media-credit name="http://srsg.violenceagainstchildren.org" align="alignright" width="300″]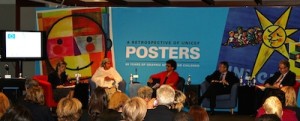 [/media-credit]The report Why Children's Protection from Violence should be at the Heart of the Post-2015 Development Agenda- a Review of the Consultations with Children on the Post-2015 Development Agenda is the result of a cooperation between the Office of the SRSG, Plan International and Save the Children. The review covered over 80 national consultations that were held around the world, spearheaded by the UN Development Group (UNDG).
"This report shows that children's assessment finds echo in several dimensions of the outcome document submitted to General Assembly as a result of the intergovernmental process on the Post 2015 agenda. I call upon the international community to take children's opinions and recommendations seriously in the finalization of the sustainable development goals and in the process of implementation thereafter."
The report was launched during a high-level panel devoted to children's rights in the post-2015 agenda organized by the Delegation of the European Union to the UN, the Permanent Mission of Uruguay and UNICEF. Participating in this interactive debate were Amina Mohammed, Special Advisor of the Secretary-General on Post- 2015 Development Planning, Geeta Rao Gupta, Deputy Executive Director UNICEF, Csaba Kőrösi, Permanent Representative of Hungary to the UN (former co-chair of the SDG OWG) and Charles Badenoch, Vice-President for Global Advocacy World Vision on behalf of civil society. [media-credit name="http://srsg.violenceagainstchildren.org" align="alignleft" width="206″]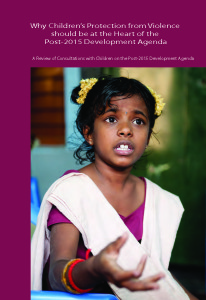 [/media-credit]