The sweetness of Umm Aziz, from the Nakba to Sabra and Shatila massacre
This post is also available in: Italian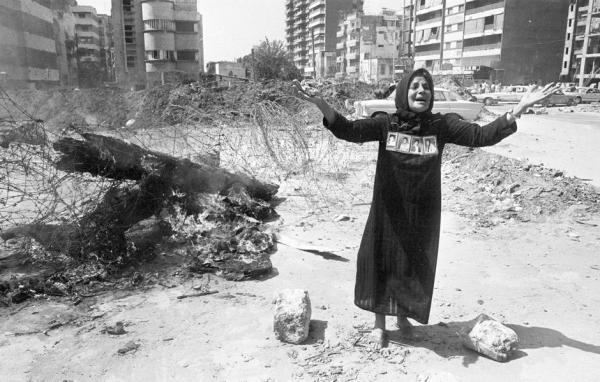 Also published in Italian on Frontiere News
11 /09/2014 – In a few days, on the 16th of September, it will be my birthday. But it will also be the anniversary of one of the most horrible events of the story of Palestinians – Sabra and Shatila massacre, committed from the 16th to the 18th of September 1982. While I was in Lebanon, I had the chance to meet many people who experienced and survived the massacre and I have found out, through their stories, that it was much more horrible than I could possibly think, that people were killed starting from the 14th of September, taken outside of the camps by Israeli and Kataeb soldiers and buried alive in a hole dug near the camps. The actual massacre that we all know started two days later with the Kataeb forces entering the camps and the Israeli soldiers being the lookout and enlightening the camps from outside.
One of the most touching stories that I have been told in Lebanon was actually about this. I want to share it because the person that told me the story is a special woman and a precious treasure that must be protected. I want to share her story because it is an important evidence of how much Palestinian people suffered also outside of their land, because the world often forgets about what happened and what is still happening to the Diaspora Palestinians. Israel is the first responsible of all of their tragedies, and it is important to point that out one more time.
Umm Aziz lives in Burj el-Barajneh refugee camp in Beirut, Lebanon. She is a tiny and delicate woman living by herself in a cozy house. She has pictures of her four sons in the wall, whom she lost during Sabra and Shatila massacre in 1982 – and because of that she is now called Umm Shohada (mother of the martyrs). Beside those pictures she placed a photo of Mohammed Assaf, Arab Idol 2013, as she is a fan of him and he went to visit her once. She is sick but still very lucid and when I went to visit her, with my friend Zeinab and our guide Mohammad, she told us the story of her life and all of the horrible things she went through – the Nakba and Sabra and Shatila massacre. She survived most of her children and she is still hoping some of them are still alive. Her story made me cry a lot that day.
After I got back from Lebanon I found out that she was someone that a Palestinian friend of mine in Italy was looking for. He has not had any information about her for ten years and he asked me to look for her while I was in Beirut. But I got wrong information and I was told she was now in Gaza. Besides, she is called with a different name now – Umm Aziz instead of Umm Ali, like my friend had told me. Instead, I met her but I did not know she was the one and I could not bring her my friend's greetings. I hope to find her in health next time that I go to Lebanon.
I want to share her story because she is really special and her sweetness and her strength gave me a lot of positive feelings.
Here is her story:
«My name is Umm Aziz, I was 18-years-old during the Nakba. I was born in Akka district, in the north of Palestine, I was married and I had two daughters at that time. In 1948 Israel attacked our village and surrounded it with tanks. My husband escaped before me and I was left alone with my two kids. I escaped too but I left some of my family members behind. Though, I had the fortune to go and visit them in Palestine two times after the Nakba. My two daughters, 1-month-old and 1-year-old, both died 21 days after Nakba, due to a big infection in their lungs.
In Lebanon I had a hard life too. I lived as a refugee in Sabra and Shatila camp and I was there during the '82 massacre, with my sons, daughters and my husband – he was later killed by Amal militia during the 1985 war of the camps. The morning of the 14th of September 1982, two days before the Kataeb forces entered the camps and committed the massacre, we were having breakfast all together when suddenly somebody burst into our house – they were Israeli soldiers. They took my four sons, brought them to their knees and pointed rifles on their heads, then they took them away without giving them the time to dress or to finish their breakfast. I ran after them until the entrance of Shatila camp, in the area where Rihab Station is today, I didn't want to leave them alone and I wanted to go with them, wherever Israel was taking them. Outside of the camp there were a lot of youths in their knees, Israeli soldiers took my babies and put them together with the others and started to beat them up with the rifles. I was yelling and crying but they pushed me behind. Then they took all of them and loaded them on a truck and Israeli soldiers told me: "if you want to come along we will kill you too", then the truck left. I ran after it crying, I was desperate, they had taken my babies!» She cries and she makes all of us crying too – Mohammed goes out of the house to cry alone and Zeinab hugs her, waiting for her to feel better and go on with the story. «I didn't want to leave my babies alone, but I couldn't reach the truck. That was the last time that I saw my children.
After a while I have been told that all of those guys were taken to the Sport City near the camp, where Israel and Kataeb forces together digged a big hole and pushed all of them inside it. They were buried alive in the hole. We know that because some of those youths could escape from that hell and told us about. Then, after the end of the war, U.N. found the hole and the bodies. I still don't know if my children were there or if they could escape somehow, but I like to think that they are still alive and they are living a better life now. Someone told me once that he saw one of my babies and he asked me money to give me more information about, and other people told me they were in a Lebanese or Syrian prison but they weren't correct information and nobody found them until now. My children were 30, 25, 22 and 13-years-old at that time and they were between the 17.000 Palestinians missing during the civil war. That's my life, I went through a lot… but I still have three daughters alive – one of them is living in Sweden and the others here in the camp.»
She dries her tears now and she calms down, then she starts telling us funny stories about her husband who loved another woman and cheated on her, we all laugh and hug her.
It was one of the saddest and together one of the most special moments of my stay in Lebanon. She is a precious treasure, so strong inside and so fragile outside and I was almost worried to touch her as if I could break her somehow. I hope to see her again and bring her my friend's greetings and love.