QATAR: ACT NOW TO FIND KRISHNA AND GHIMIRE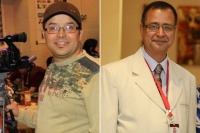 QATAR: ACT NOW TO FIND KRISHNA AND GHIMIRE
This is one of the ominous final messages Krishna Upadhyaya sent before he and his colleague Ghimire Gundev disappeared in Qatar.Krishna and Ghimire are British campaigners, working in Qatar on behalf of the Norwegian human rights organisation Global Network for Rights and Development (GNRD). They had been researching the plight of migrant labourers constructing facilities for Qatar's 2022 World Cup, conducting interviews with Nepali labourers and investigating the terrible working conditions.

Then they vanished. Krishna was last in touch with a friend who has since said: "He was feeling unsafe to leave the hotel premises and according to him there were many police, most likely undercover ones, coming in very close to him every time he spoke to anyone on the phone. He expressed that he felt very insecure about what might happen when he left the hotel for the airport."2 


Both are now feared to be detained by the Qatari security forces. Their whereabouts remain undisclosed and it's feared that they may have been subjected to enforced disappearance.

Krishna and Ghimire were working hard to keep the world's attention on migrant workers trapped in conditions of modern slavery in Qatar. We cannot allow their mistreatment to continue.

Take action now: call for the immediate safe return of Krishna and Ghimire by sending an email straight to the Qatari Minister of State for Interior Affairs, who is also Prime Minister.