Vigil for Peace in Gaza and Israel In the spirit of Japanese o-bon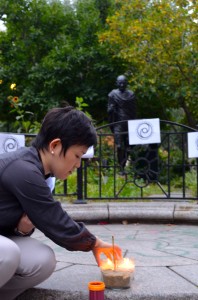 August 15 in Japanese calendar is o-bon, a day dedicated to honoring deceased loved ones. By doing so, it also gives an opportunity for the living to reflect on our lives that were given by our ancestors and renew a commitment to live our lives to the fullest and in peace. 
As I stand in front of the statue of Gandhi at Union Square Park, I reflect on what's going on in my life and what it means to live my life to the fullest and to seek peace in my life. In the recent months, I have seen tremendous amount of violence created by humans all around the world. Syria, Iraq, Egypt, Ukraine, China, Thailand and Ferguson, MO.
For the past few weeks, the news and images coming from Gaza and Israel are overwhelmingly devastating. Bombs exploding, the faces of crowd of people are filled with rage, hatred and anger. Tormented mothers are crying over their dead children, husbands, friends and neighbors. On both sides, people are suffering. Precious lives are taken away, and nothing can justify that. I have been deeply saddened and deeply affected by all the violence and injustice.
Violence only leads to anger, hatred, revenge, and suffering. Attempts to end conflicts with violence never solve anything and never achieve anything. Gandhi, a great teacher of peace and non-violence once said, "There is no way to peace; peace is the way." We must find a peaceful, non-violent solution to end conflicts and to end violence.  
Here, I'd like to share a quote from Silo, an Argentine Humanist and another great teacher of peace and non-violence in our time.
"Stop, for the first time in History, to look for the guilty. They are responsible for what they have done, but nobody is guilty of what has happened. I hope that in this universal trial we could declare: "no one is guilty" and that the reconciliation with one's own past is established as a moral obligation for each human being.
This will start today within you and you will be responsible for this to continue among those around you, and go further until reaching the last corner of the Earth." (Extract from Madrid Public Act, 1981, Spain)
In the spirit of Japanese o-bon, let us dedicate a moment of silence to those who perished in the conflict by offering a white chrysanthemum, a symbol of grief and truth, and lighting an incense so that the smoke and scent will help the spirit to find its way to ascend.
Lastly I invite you to a guided meditation called, "Ceremony of Well-Being" which is adapted from a book, "Silo's Message." (Winged Lion Press, USA 2007) In this ceremony, we connect to the best of ourselves, and send our best wishes of peace and non-violence to all those affected.
Ceremony of Well-Being for Gaza-Israel
We are gathered here today to turn our thoughts to the people living in Gaza and Israel. They are facing a devastating tragedy caused by violence. Many innocent lives have been lost. Many are fleeing their homes in search of safety. Many live in fear of what will happen next, not knowing when the violence will end. To them we direct our thoughts and our best wishes. We ask for their peace, their safety, and we ask that those who are working for a non-violent resolution to the conflict may be supported and heard.
We have faith that our call for their well-being and peace will reach them. Let us think of the people in Gaza and Israel. Let us think of those we may know in the region, and of all those affected by this conflict. Let us feel their presence. Let us experience contact with them.
Let us take some time to meditate on the difficulties that they are facing…
A few minutes are given so that the participants may meditate.
Now we would like these people to feel our best hopes for them. A wave of relief and well-being will reach them…
Let us take a short time to mentally locate the situation of peace and well-being that we wish for everyone
A few minutes are given for participants to concentrate their minds on this.
We conclude this ceremony by allowing the opportunity, for those who desire, to feel the presence of those loved ones who, although they are not here in our time or in our space, are connected to us in their desire for love and peace…
A short time is given for this.
This has been good for our friends and loved ones and for the people in Gaza and Israel. It has been comforting for us, and inspiring for our lives… Greetings to everyone immersed in this current of peace and well-being, which has been strengthened by the best wishes of all those present…
By Emiko Nagano, on August 15, 2014, Union Square Park, NYC — Photos from the Vigil