Mortality Rate Due to Ebola Increases to 961 Deaths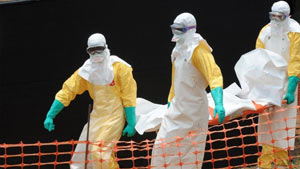 Geneva, Aug 8 (Prensa Latina) The mortality rate increased to 961 deaths due to the current outbreak of Ebola affecting several West African countries, reported today the World Health Organization (WHO). As for cases of patients, probable and suspect, there are 779 thousand reported so far, said the United Nations.
Sierra Leone is the nation with more notifications (717), followed by Liberia (554) and Guinea (495) while in Nigeria 13 cases were reported.
The WHO declared this Friday the state of public international emergency because of the expansion of Ebola, whose spread is and extraordinary event highly risky for people worldwide.
The high virulence of the pathogen, and the fact that the exposed countries have weak health systems, increases the risks, stressed the health agency. However, the European Commissioner for Health, Tonio Borg, said that the possibility of the spread of Ebola to the so-called old continent is highly unlikely.
Likewise, he considered low the probability that infected people arrive in Europe and stressed that the virus is transmitted only by direct contact with body fluids of a patient.
The European Union monitors for months the situation in West Africa and in the unlikely event that the virus reach Europe, we are prepared to deal with it, he concluded.