It's great being a humanist
This post is also available in: Spanish, French, German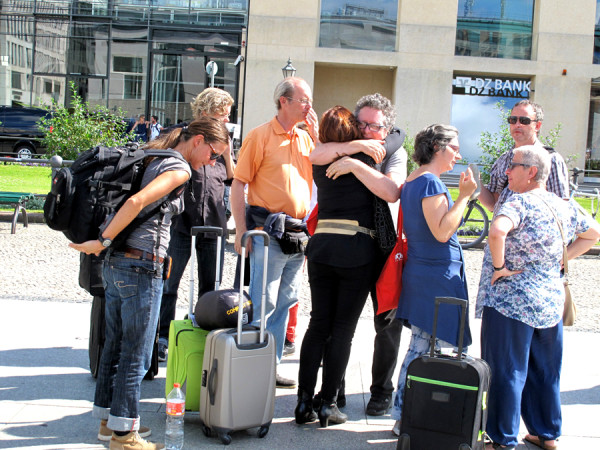 We were on the train going to Berlin – Antonia, Djamila, Catherine, Sonja and myself – from somewhere near a little town by Weisenburg, the nearest populated place by our Schlamau Park of Study and Reflection. Five of us, returning from a Pressenza meeting at the Park following the Deutsche Welle Global Media Forum in Bonn where we had participated.
I don't know how it started but I began taking real note on realising the group were somehow speaking about quantum theory, and the observer effect – loosely interpreted as how the observer changes the observed and taken in that sense can be said to mean, depending on one's view of the world, which is a conditioner, what we do changes things differently which in turn is according to our state of happiness. So, to be happy, is an essential condition of working effectively in the world and after all that's what we intend – to raise the human consciousness wherever – which effort began with the Humanize the Earth slogan of Silo.
The word 'clarify' popped up, meaning to clarify things, to see and work in reality not in illusion and how to do this, or, what this means personally.
In our work in what we call the Disciplines, also in the Ascesis – putting it all into practice by the life lived, the style of life – which is part-and-parcel of having Purpose, this had and has everything to do with our mutually shared programme and indeed this very excursion into the world of the media and our days in our wonderful Park and the exchanges there.
It was mentioned that to tidy up our personal life, to look into and manage the discrepancies, to locate the tensions and causes and remedy same, this clarifies the mind to allow that clear seeing. In the end this was no great mystery, when no thing impinges distractedly on our consciousness (if it can be put like that) then what is seen is as it is…
Happiness lies as an essential condition of the human, all that has to be done is remove the nuisances, the interference and noise – not that such removal is an easy matter as many people have had undeniably heavy negative experiences and to rid these without trace can be a formidable task.
That's one reason why it is a group work and not advisably done in isolation.
However, in general, all it takes is some dedication and permanence, also, to keep on top of things it is not a once-and-for-all operative, rather it is an ongoing process matching the dynamic nature of life as is, we cannot just stand by! Adaptation is a changing fit.
It struck me as marvellous that this chat and interchange could take place so matter-of-fact like taking tea and scones on a pleasant Sunday morning. There we all were, excitedly heading for historic Berlin for a final day's fling and be-together and this was the quality of the relations, oh my, oh my, oh my… it's great being a humanist.