Dr. Paul Farmer on African Ebola Outbreak: Growing Inequality in Global Healthcare at Root of Crisis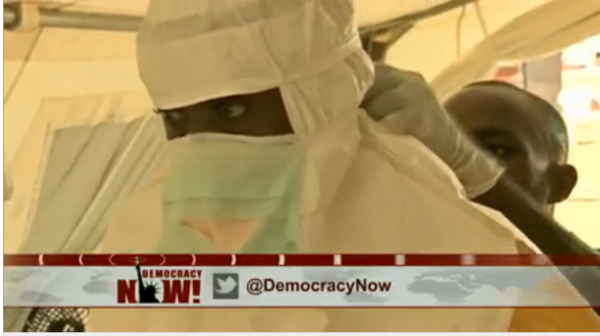 As the death toll from the West African Ebola outbreak nears 1,400, two American missionaries who received experimental drugs and top-notch healthcare have been released from the hospital. We spend the hour with Partners in Health co-founder Dr. Paul Farmer discussing what can be done to stop the epidemic and the need to build local healthcare capacity, not just an emergency response. "The Ebola outbreak, which is the largest in history that we know about, is merely a reflection of the public health crisis in Africa, and it's about the lack of staff, stuff and systems that could protect populations, particularly those living in poverty, from outbreaks like this or other public health threats," says Farmer, who has devoted his life to improving the health of the world's poorest and most vulnerable people. He is a professor at Harvard Medical School and currently serves as the special adviser to the United Nations on community-based medicine. He has written several books including, "Infections and Inequalities: The Modern Plagues."
Transcript
JUAN GONZÁLEZ: We turn now to the Ebola outbreak in West Africa that has killed nearly 1,400 people across Liberia, Sierra Leone, Guinea and Nigeria. The World Health Organization estimates another 2,473 have been infected, but the tally is widely believed to be higher. The WHO has warned that countries hit by the outbreak are starting to suffer shortages of fuel, food and basic supplies after airlines and shipping companies suspended services to the region.
AMY GOODMAN: Senegal has just shut its border with Guinea. South Africa has banned noncitizens traveling from Guinea, Liberia and Sierra Leone. The hardest-hit nation has been Liberia, where at least 576 people have died. On Wednesday, police opened fire on protesters in the West Point neighborhood of Liberia's capital city, Monrovia, after they quarantined residents without any notice in an effort to stop the spread of Ebola. A 15-year-old boy was shot in the leg. Residents said the protest was sparked by the police's heavy-handed presence in the quarantine area. This is local resident Isaac Momolu.
ISAAC MOMOLU: We expect the government to come out with awareness. That's what we expected. By 4:00 am this morning they deployed police, armed forces, immigration, whatever, beating people, and that's not the way. My personal opinion, it's very, very bad. It's very, very bad. But as you can see, as you can see, the area is a business area. Nobody is selling now. You can't even cross. If you try to make way and come to your own area, they will stop you from coming to your place.
JUAN GONZÁLEZ: The Ebola outbreak has also generated an international debate over the use of experimental drugs to treat the disease. Three weeks ago, the first two doses of an experimental serum known as ZMapp went to two American missionaries, Dr. Kent Brantly and Nancy Writebol, who had contracted the disease in Liberia and returned to the United States for treatment. Both were released from the Emory University Hospital this week. On Thursday, Emory's Dr. Bruce Ribner confirmed the aid workers no longer pose a health risk to the public.
DR. BRUCE RIBNER: Today, I'm pleased to announce that Dr. Brantly is being discharged from the hospital. After a rigorous course of treatment and thorough testing, we have determined, in conjunction with the Centers for Disease Control and state health departments, that Dr. Brantly has recovered from the Ebola virus infection and that he can return to his family, to his community and to his life without public health concerns.
AMY GOODMAN: Today we spend the hour with a doctor who has devoted his life to improving the health of the world's poorest and most vulnerable people. He's traveled the world, not only treating impoverished patients, but also challenging entire healthcare systems. His name is Dr. Paul Farmer. He's an infectious disease doctor as well as a medical anthropologist. Twenty-five years ago, he helped found the charity Partners in Health, an international nonprofit organization that provides direct healthcare services to those who are sick and living in poverty. Farmer co-founded the group in 1987 to deliver healthcare to people in Haiti. It now works in—across the world, including Rwanda, Malawi, Lesotho and Mexico, as well as Siberia. Dr. Paul Farmer is a professor at Harvard Medical School and chief of the Division of Global Health Equity at Brigham and Women's Hospital in Boston. From 2009 to '12, Dr. Farmer served as the U.N. deputy special envoy for Haiti working under former President Bill Clinton. He currently serves as the special adviser to the United Nations on community-based medicine and is also on the board of the Clinton Health Access Initiative. Dr. Paul Farmer is the author of a number of books, including Infections and Inequalities: The Modern Plagues and, most recently, In the Company of the Poor: Conversations with Dr. Paul Farmer and Fr. Gustavo Gutiérrez. Paul Farmer recently returned from Rwanda and Sierra Leone.
We welcome you back to Democracy Now!
DR. PAUL FARMER: It's great to be here. Thank you both.
AMY GOODMAN: Talk about what we should understand about this outbreak of Ebola, Paul.
DR. PAUL FARMER: Well, I think the most important thing to understand is that this is a reflection of long-standing and growing inequalities of access to basic systems of healthcare delivery, and that includes the staff, the stuff and, again, these systems. And that's what—that's how we link public health and clinical medicine, is to understand that we're delivering care in the context of protecting the health of the population. And so, if you go down to each of these epidemics—that are, of course, one epidemic—and you ask the question, "Well, do they have the staff, stuff and systems that they need to respond?" the answer is no. And then, what will stop the epidemic, which it will be stopped, is an emergency-type response. But then again, how are we building local capacity to do that so these epidemics don't spread—as they would never spread in the United States, by the way?
JUAN GONZÁLEZ: And the astounding fatality rates that we keep hearing about, is that more, in your sense, in your view, a result of the disease itself or the weaknesses of the healthcare systems that confront them?
DR. PAUL FARMER: Well, you know, I think the more important hypothesis is that it's the latter, right? Because—and it would be great to talk to our colleagues at Emory, the infectious disease colleagues who treated patients. It's not that they had an experimental medication; it's that they had supportive care. And supportive care, in medical terms, doesn't mean having someone hold your hand. It means, if you're bleeding, you get blood products. If you're hypotensive, or your blood pressure is low, you get IV solutions, right? That's not what's happening in these Ebola centers. You know, it's really quarantine without a lot of the care, right, because supportive care requires sometimes an ICU.
AMY GOODMAN: That was very interesting that you just said that Ebola couldn't be—there couldn't be an outbreak in the United States.
DR. PAUL FARMER: Well, there could be, but it would be stopped quickly, because patients would be isolated, not in quarantine facilities without medical care, but in places like Emory or the place where I work in Boston, at the Brigham and Women's Hospital. And even in Haiti or in Rwanda, you know, we've prepared, along with the authorities, isolation rooms that are not to shut people away, but to take care of them while protecting the rest of the staff, if they have an infectious illness, an airborne illness, say.
So, you know, back to Juan's question, why would there be such massive variation in case fatality rate? And to me, that always says, because there has not been an overlap between the epidemic, Ebola epidemic, and modern medicine. We're talking about Medieval-level health systems and a modern plague that's going to spread. And when we can overlap modern medical systems and modern public health systems, then we can see what the case fatality really would be. I mean, just to be provocative, what if it's 10 percent instead of 90 percent? What if it's 5 percent, with proper medical care? And I'm saying even without a specific therapy for that disease, which we're all waiting for and hopeful about some of the new agents.
JUAN GONZÁLEZ: Well, last week, when we had some guests on discussing this issue, there was somewhat of a debate over this whole issue of the quarantine. Laurie Garrett, who won a Pulitzer Prize for her coverage of one—of an initial Ebola outbreak, supported the necessity for even forced quarantines because of the reality of the weak systems. However, Lawrence Gostin, who is the faculty director of the O'Neill Institute for National and Global Health Law at Georgetown University—he's a specialist in geoquarantines—he warned against the use of a cordon sanitaire, a large quarantine. This is what he said.
LAWRENCE GOSTIN: People who are in the quarantine area are very frightened, and I think deservedly so. And they're frightened not only because they are in a hot spot, a hot zone of Ebola, but also with roads blocked. Food is expensive and getting scarce. There are no medical supplies. And basic needs, psychosocial and medical needs, are not being met. And so, this is a really inhumane way of trying to do that. We never should have come to this. …
You can't have a health crisis turn into a human rights crisis. You have to provide food. You have to provide medical care. You have to provide psychosocial support. And you need to provide secure, but also safe and sterile, isolation equipment, with personal protection equipment. And that's what a smart sanitaire is.
JUAN GONZÁLEZ: I'm wondering your response.
DR. PAUL FARMER: Well, I don't think that they're disagreeing, Laurie Garrett and—who actually took the picture on the cover of Infections and Inequalities, it's Ebola outbreak—and Larry Gostin, because you can't have a smart—you know, he used the term cordon sanitaire—you can't have a smart quarantine without real care for the people being quarantined. And that's what—you know, it seems to me the patients, the American patients who went to Emory, they were being quarantined, right? But they were also receiving care. And that requires, again, staff, stuff and systems. You can't be compassionate without expertise, and you can't have expertise without the supplies that you need to do a good job. So I do not see those two positions as really in contest. A human rights position should also include the right to healthcare, the right to compassion, the right to psychosocial support, just as a public health response has to be aware of how an illness is transmitted and how to protect the public. And this tension, which is very profound, as you note, is worsened by the fact that there is no good medical system in Liberia or Sierra Leone or Guinea. And we have to build one.
AMY GOODMAN: We're talking to Dr. Paul Farmer. We'll come back to this discussion after break. The music that we're about to hear is called "Ebola [in] Town." It's a Liberian song written earlier this year to raise awareness about Ebola.