Blowback: Vijay Prashad on How Islamic State Grew Out of U.S Invasion of Iraq, Destruction of Nation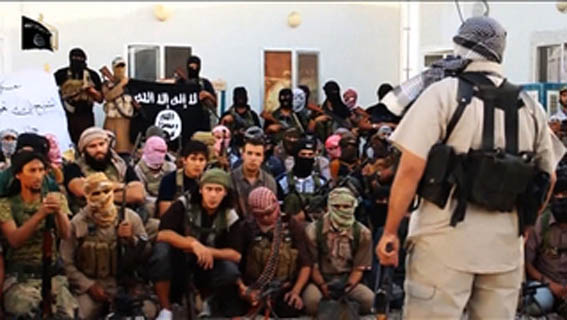 Militants from Islamic State stormed an air base in northeast Syria on Sunday, capturing it from government forces. Fighters from Islamic State have seized three Syrian military bases in the area in recent weeks. This comes as the Pentagon considers expanding its airstrikes against Islamic State in Iraq to include targets inside Syria. Meanwhile, another journalist who had been kidnapped in Syria, Peter Theo Curtis, has been freed after two years in captivity by the Nusra Front — another militant group in Syria. Calls have been growing for the United States to attack Syria since Islamic State posted video showing the kidnapped American journalist James Foley being beheaded. Foley was captured in Syria in 2012. Meanwhile in Iraq, officials say suicide bomber targeted a Shiite mosque in Baghdad today, killing at least 12 people. We speak to Vijay Prashad, professor of international studies at Trinity College. He is the author of several books, including "Arab Spring, Libyan Winter" and, most recently, "The Poorer Nations: A Possible History of the Global South."
Transcript
This is a rush transcript. Copy may not be in its final form.
AMY GOODMAN: Militants from the Islamic State stormed an air base in northeast Syria Sunday, capturing it from government forces. According to the Syrian Observatory for Human Rights, at least 346 Islamic State fighters and more than 170 members of government forces have died since Tuesday in the fight over the Tabqa base. Fighters from the Islamic State have seized three Syrian military bases in the area in recent weeks.
This comes as the Pentagon considers expanding its airstrikes against the Islamic State in Iraq to include targets inside Syria. On Thursday, General Martin Dempsey, the chair of the Joint Chiefs of Staff, hinted at possible intervention against the Islamic State in Syria.
GEN. MARTIN DEMPSEY: This is an organization that has an apocalyptic, end-of-days strategic vision and which will eventually have to be defeated. To your question, can they be defeated without addressing that part of their organization which resides in Syria, the answer is no. That will have to be addressed on both sides of what is essentially at this point a non-existent border. And that will come when we have a coalition in the region that takes on the task of defeating ISIS over time.
AMY GOODMAN: Dempsey spoke two days after the Islamic State posted video showing the kidnapped American journalist James Foley being beheaded. Foley was captured in Syria in 2012. Meanwhile, another journalist who had been kidnapped in Syria, Peter Theo Curtis, has been freed after two years in captivity by the Nusra Front, another militant group in Syria.
During an interview Sunday, General Dempsey told reporters once he determines the Islamic State militants in Iraq have become a direct threat to the U.S. homeland, he'll recommend the U.S. military move directly against the group in Syria. On Friday, Ben Rhodes, President Obama's deputy national security adviser, also raised the possibility of U.S. strikes inside Syria.
BEN RHODES: We will do what's necessary to protect Americans and see that justice is done for what we saw with the barbaric killing of Jim Foley. So, we're actively considering what's going to be necessary to deal with that threat, and we're not going to be restricted by borders. We've shown time and again that if there's a counterterrorism threat, we'll take direct action against that threat, if necessary.
Read the full transcript in Democracy Now!