Victims Welcome Invitation to Colombian Peace Process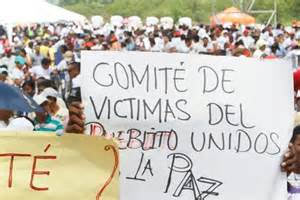 Bogota, Jun 8 (Prensa Latina) Victims of the armed conflict in the Colombian departments of Caldas and Quindio welcomed the decision of the government and the FARC-EP to give them direct participation in the peace talks. According to reports from the special unit for taking care and register those affected by the violence, there are 83,000 victims located in 24 municipalities in Caldas.
Speaking to Caracol Radio, an officer of Caldas Police, Cesar Lasso, said that besides the legal recognition, an important aspect is the application of justice and public recognition of the damage caused.
He added that the definition of the basis on which this issue will be addressed in the table installed in Havana is an important step to achieve peace.
Victims deserve the recognition and hope that the truth is the mainstay in the dialogues. I am confident that President Juan Manuel Santos can achieve its purposes of ending a conflict that persists in the country for more than half a century, he said.
Meanwhile, the representative of the Association of Victims of Quindio, Clementina Murillo, said she was very optimistic about the discussion of this point, the fifth on the agenda of talks in Havana. We hope to have a real stake in the talks, 'given our condition as victims we know what it feels like, what to expect and what to demand,' she said.
The government and the Colombian Revolutionary Armed Forces -People's Army (FARC-EP) agreed Saturday three mechanisms that will enable the parties to move forward in the pending agenda items: the victims and the end of the conflict itself.