Argentina Government Highlights World Support against Vulture Funds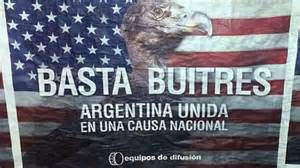 Buenos Aires, Jun 26 (Prensa Latina) The head of the Argentinian Cabinet, Jorge Capitanich, today thanked the international community for its increasing clear, strong, and longstanding support in his country´s fight against vulture funds. Capitanich highlighted the recent support given by the Group 77 plus China which unanimously expressed its solidarity with Argentina in the judicial process it is enduring due to a ruling that most consider unfair, according to the Pagina 12 daily.
The 133 member nations of the bloc approved a declaration of support in which they warned about the impact that the implementation of that ruling would have on the international finnacial system.
That support joins the one expressed by regional blocs, such as the Community of Latin American and Caribbean States (Celac), the Common Southern Market (Mercosur), and the South American Union of Nations (Unasur).
The UN Conference on Trade and Development (Unctad) also expressed recently its condemnation of the US Supreme Court´s refusal to hear Argentina's appeal in the vulture funds case.