Separatists Reject Putin Call to Delay Secession Referendum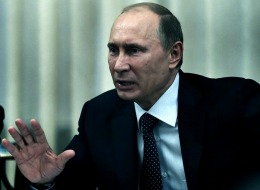 Russian President Vladimir Putin has called on separatists to delay a referendum on breaking off from Ukraine. Areas in eastern Ukraine occupied by pro-Russian forces are set to vote this Sunday on whether to seek autonomy. Amidst continued violence over the past week, Putin called on the separatists to postpone the vote.
Russian President Vladimir Putin: "We call on the representatives of southeastern Ukraine, the supporters of the federalization of the country, to postpone the referendum planned for May 11 this year. Meanwhile, a necessary condition for the start of this dialogue is the unconditional stopping of any violence. Both the use of military force is absolutely unacceptable in the modern world, as is the use of armed illegal units, extremist elements and forces."
In his comments, Putin also said he has ordered Russian forces to pull back from the Ukrainian border in a bid to defuse tensions. Earlier today, the coordinating committee of the so-called Donetsk People's Republic rejected Putin's call, saying Sunday's vote will go ahead.