Burger Spring? Fast Food Workers Strike Worldwide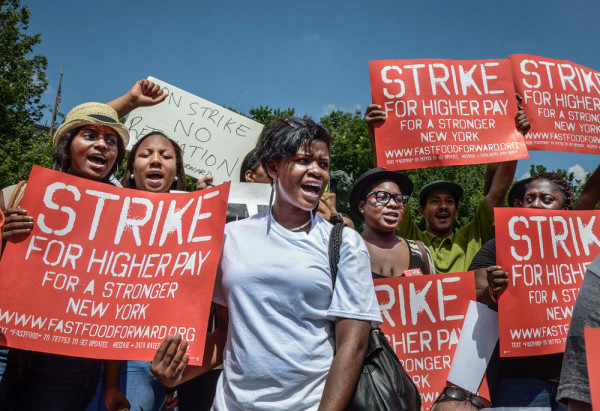 230 cities, 33 countries and 5 continents. Fast food workers are demanding higher salaries.
"A few background facts from the Agenda Project Action Fund. (Alter Net)
"Fast-Food CEOs Oppose Worker Raises Despite Making 1,200 Times More Than Average Employee (Democracy Now!)
Thousands of fast-food workers in the United States and around the world are staging a one-day strike today to demand a livable wage. A recent report found fast-food CEOs make 1,200 times as much money as the average fast-food worker, a disparity that maximizes short-term profit while harming worker security and the overall economy. We are joined by the report's author, Catherine Ruetschlin, a policy analyst at Demos; and by Terrance Wise, who has worked at Burger King for nine years and is striking today in Kansas City, his fourth such action since last August.
Transcript
This is a rush transcript. Copy may not be in its final form. (Read the full transcript at the Democracy Now! site)
AMY GOODMAN: Thousands of fast-food workers have begun a one-day strike today in at least 150 cities. Organizers with Fast Food Forward say workers from 80 cities in more than 30 countries around the world will also join the day of action. In the United States, workers in St. Louis and Kansas City, Milwaukee, Oakland, Detroit, Chicago, Los Angeles and New York City will demand the right to organize and call for a doubling of their wages from the current minimum wage of $7.25 an hour to $15 an hour.
This was the scene in New York early this morning outside a McDonald's across the street from the Empire State Building.
PROTESTERS: We are the workers! We are the workers!
KENDALL FELLS: Kendall Fells. I'm the organizing director of Fast Food Forward. We're here in New York City in Midtown. We just began around the corner. We've got hundreds and hundreds of New York fast-food workers on strike today. We've got hundreds and hundreds of community out here supporting them, electeds and others. We just marched down 33rd. We hung a right on Fifth Avenue to this McDonald's right here, where we ran into some conflict with the police because the GM of the store apparently was here getting the police, because he didn't want, you know, this 500-, 600-person crowd to take over his store like we're known to do here in New York City. So, when we tried to get in McDonald's, you know, like I said, the crowd stopped—they stopped the crowd from going in. But luckily, we had a crowd that had gone in earlier, so we got a banner that we threw up, you know, and hung down inside of the McDonald's, just to move our message around: people sticking together, $15 and a union for all fast-food workers in the country.
PATRICIA MALCOLM: [echoed by the people's mic] Good morning! My name is Patricia Malcolm. I am here this morning with members of the clergy. We are in solidarity with fast-food workers. Over 130 cities are on strike today. Fifteen dollars and a union. We have to stop this inequality. And so, today, we are sending a strong message to Albany: Things have got to change."