FARC-EP Announces Significant Progress at Peace Talks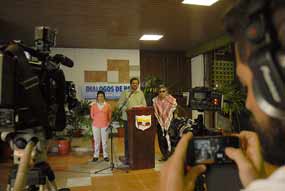 Havana, Apr 25 (Prensa Latina) The Colombian peace process being held in Havana could achieve significant progress by the end of the current round of talks, said Andres Paris, a member of the of the Revolutionary Armed Forces of Colombia-People"s Army (FARC-EP) delegation. The parts are working on an agreement to address illegal drug trafficking, which is the third issue discussed since November 2012, Paris told the press at the Conventions Center in Havana, venue of the talks.
He stressed that both the insurgency and representatives of the Colombian government are willing to go on with the peace talks, despite those who are against them.
In this sense, he said to be very sorry about Colombian presidential candidates who attack the peace process that seeks to end the 50-year-old war.
Meanwhile, Jesús Santrich, other FARC-EP delegate, said the discussions about illicit crops like marijuana and coca leaf are about to conclude.
We have achieved significant progress and we have written more than 20 pages, said Santrich, who said the biggest debate focuses on drug trafficking.
So far, the parts have reached agreements regarding agricultural development and political participation, issues the guerrilla consider fundamental for the country's future.