When pacifism is turned upside-down – Reflections on Japan's new foreign policy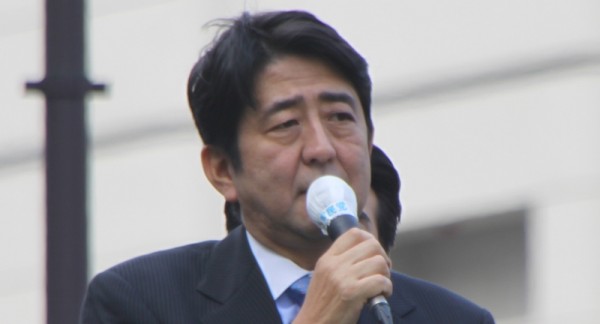 With his second term in office, Prime Minister Abe Shinzo of Japan and members of his administration have outlined a vision for Japan's foreign and security policy based on 'pro-active pacifism'. In his address to the UN General Assembly in September 2013, Abe elaborated that he "will make Japan a force for peace and stability, just as it has been until now" and pledged that "Japan will newly bear the flag of 'Proactive Contribution to Peace'." Yet, looking at how this policy has been implemented so far, it seems doubtful that Abe understands the true meaning of pacifism.
Quite on the contrary, critics have deemed Japan's new doctrine of "pro-active pacifism" as nothing other than seeking international legitimacy for the administration's declared efforts to bolster the country's security and military posture, and expressed fears that in the current context of mounting regional tensions and territorial disputes, it may escalate into further conflict and confrontations.
To begin with, Abe has declared his intention to lift Japan's self-imposed ban on exporting weapons through a new Arms Export Control Principle. Not only would this add another powerful player to an already overcrowded global arms trade, but it would open the doors for the Japanese defence industry to grow exponentially. Building on this, he has also increased his efforts to lift the self-imposed ban on exercising the right to collective self-defence.
Moreover, it was announced in early November of last year that Japan's military budget will be increased by three percent. This follows an increase of eight percent last year. This time period coincides with the second Abe administration, from his election in December 2012. All the while, Japan still has the sixth largest military budget in the world. Even though claims are made that this increase is only in response to similar rises in neighbouring China – especially in light of the territorial dispute over the Senkaku/Diaoyu/Diaoyutai Islands – it can only be expected that more spending by Japan will further rouse the regional arms race that has been ongoing for several years.
Additionally, Abe has made no secret of his desire to abolish Article 9 of the Japanese Constitution. This war-renouncing article can be considered one of the few public gestures of acknowledgment of the country's history of aggression, and has played a significant role in maintaining peace in the region. Abolishing this article would most definitely strengthen distrust among many of the other countries in the region, including those with which Japan already has territorial disputes. China and South Korea, in particular, are increasingly expressing anxiousness over Abe's moves.
Lastly, one can only conclude that some of the recent actions of Abe and his administration show a grave lack of understanding of the ongoing legacy of Japan's violent history. Abe's visit to the Yasukuni War Shrine, Deputy Prime Minister Taro Aso's comments on the need to learn from Nazi Germany, and the images of Abe in a fighter jet marked with the number 731 – the number of the Japanese Imperial Army unit notorious for conducting chemical and biological weapons experiments on thousands of Chinese prisoners of war (POWs) during WWII – all underscore his inability or unwillingness to grasp how much work still remains to be done when it comes to regional reconciliation.
Indeed, for outsiders it may be difficult to truly comprehend the extent to which the foreign policy and regional relations of Japan are still being dictated by the past. Abe himself compared contemporary tensions between Japan and China to rivalries between Britain and Germany on the eve of World War I in off-hand remarks to reporters during the World Economic Forum in Davos in January 2014. Despite all efforts by civil society organizations in Japan and in neighbouring countries to prevent it, Abe's pro-active pacifism threatens to actually escalate regional tensions into violent confrontations.
If Abe is sincere in his desire for Japan to contribute pro-actively to pacifism, some drastic changes must be made to his current policies. Instead of continuing the chess match of moves by different regional powers that only further heighten tensions over territorial disputes, Japan should pro-actively promote regional dialogue, including through the institutionalisation of the Six Party Talks. Regionalisation was essential for Europe to transform from a continent that was at the heart of two world wars to one that has a common regional defence policy. The establishment of the European Union – and its predecessors – was essential for the peace process in Europe after World War II. The awarding of the Nobel Peace Prize in 2012 recognized this fact.
Furthermore, for Japan to become a champion of peace, it needs to acknowledge and recognize its past. While some apologies may have been made, numerous actions continue to put the sincerity of these into question. As experiences in countries such as Germany, South Africa, Argentina, Australia and the USA have shown, reconciliation processes take time and effort. This must be implemented through not only national and regional policies, but also on an individual level through education and remembrance. Instead of undermining regional reconciliation, Japan should stimulate peace education to be taken up in official school curricula, including critical self-reflection on the violent history of Japan in relation to the Asia Pacific.
Japan could become a global leader in pro-active pacifism, if it lets the principals and philosophy of Article 9 inspire its foreign policy. However, this would require Abe to devise a policy that actually does justice to the term, including abandoning collective self-defence and instead making a shift towards common security for the region. Only then could he could rightfully claim Japan as a global leader in "a proactive pacifism based on the principles of international cooperation."