Energies Clash in Tokyo Election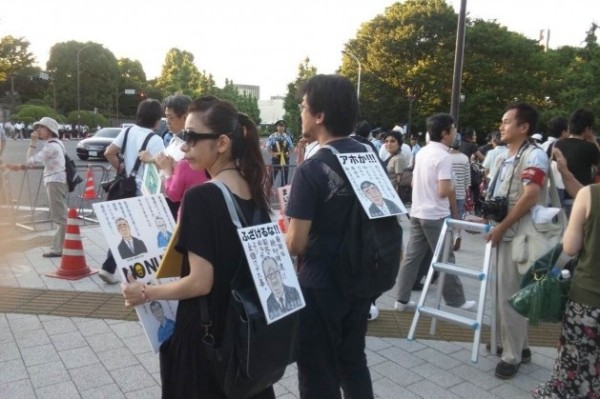 TOKYO, Feb 7 2014 (IPS) – Tokyo, one of the largest and most energy-guzzling cities in the world, is set to hold elections for a new governor Feb. 9. Analysts say it could prove crucial in stopping the Japanese government from restarting some nuclear reactors this year.
It could also mean a big push for renewable energy. Professor Yurika Ayukawa, a climate change expert at the Chiba University of Commerce, told IPS, "Only political leadership will bring an end to dangerous nuclear power in Japan. That is why a strong showing by the more popular anti-nuclear candidate in the race is vital this month."
"The painful irony is that Japan is already a world leader in innovative carbon-free technology that can replace nuclear energy." — climate change expert Professor Yurika Ayukawa
"The painful irony is that Japan is already a world leader in innovative carbon-free technology that can replace nuclear energy," she said. The latest face of Japan's anti-nuclear movement is 76-year-old gubernatorial election candidate Morihiro Hosokawa, a former prime minister who in 1993 broke the long political hold of the powerful Liberal Democratic Party (LDP). Hosokawa entered the race only in January but his pledge to ban nuclear power and push renewable energy as a replacement taps into public anguish over the Fukushima nuclear accident Mar. 11, 2011 following a massive earthquake and tsunami. "If I am elected I will adopt a zero nuclear policy. The message to the world is Japan will replace dangerous nuclear power with renewable energy," Hosokawa told the press. Up against him is Yoichi Masuzoe, who has the support of Prime Minister Shinzo Abe of the LDP. The latter is now pushing nuclear power as a viable energy option for the Japanese economy, which is the third-largest in the world. The industrial sector accounts for 43 percent of the nearly 860 billion kilowatt national energy consumption recorded in 2011. The transport sector, at 24 percent, is the second-biggest consumer. Despite continuing radiation contamination in the Fukushima area and the surrounding sea, Abe argues that nuclear power is a must and cites better safety rules for reactors as the way to go. LDP has long backed this lucrative power source and enacted policy to extend large subsidies to utility companies to construct expensive nuclear plants that supplied almost 30 percent of national energy until the Fukushima accident. The Fukushima accident has nevertheless prodded breakthrough measures by the government to support renewable energy as it grapples with the bitter reality of public distrust and a hefty rise in expenditure on the import of fossil fuel to cope with the loss of nuclear energy. A key departure from the traditional energy policy that has been pro-nuclear is the allocation of state funds coupled with much needed deregulation measures to support the expansion of low-carbon technology – mostly solar, wind and biomass – enacted during the past two years. The 2012 national energy policy, for example, has set new targets for renewables from the current 11 percent to 35 percent by 2030. Over 700 billion dollars has been pledged to achieve the new target. A notable step in April last year was the newly established feed-in-tariff system that is aimed at prying open the protected and lucrative utility market by accelerating private investment in renewable energy industries. Under this system, a state-supported tariff system extends premium prices to renewable power sold by private companies to mainstream utility companies. Taking prompt advantage of the new system is Solar Sharing Association, a private company that provides technology to farmers to install solar panels on their land and to sell the excess power generated through this investment. "The concept of our company is to increase solar power output in the country and decrease dependence on nuclear energy. We target farmers who want to increase their income," explained its spokesperson Mayumi Yamada. The company has over a hundred members. Kenta Hiaasa, a farmer who installed solar panels on his land last July after investing 8,000 dollars, told IPS that his monthly income from the venture is hitting 1,500 dollars. Other important developments recorded in this sector are an increase in wind power. This move is targeting the now barren tsunami-hit northeastern coasts of the main island and Hokkaido. Hokkaido Power Company has pledged to buy 390 million kilowatts of wind energy, or the equivalent of energy produced in three nuclear reactors, from private companies during the next 10 years. The project will cost the utility company 30 million dollars, mostly supported by the new tariff system. Despite the important gains in Japan, Ayukawa points out that the biggest hurdle for the renewable sector is the lack of a clear government stance on nuclear policy. "Much of the official estimates and targets to purchase alternative energy are made by companies against a backdrop that nuclear power is still an option. This policy is not a stable foundation for renewables to be expanded," she said. This is the crucial reason why election for a new Toky governor could signal long awaited change.