Electricity: burden or saviour in developing Bangladesh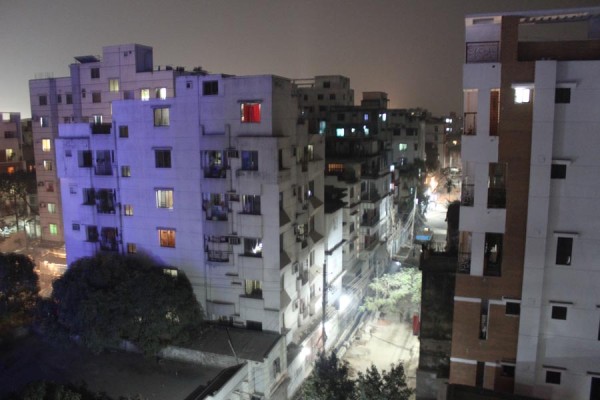 Bangladesh is now moving towards becoming a medium-income-level economy with almost six percent growth per year. Although having difficulties in the political sector which affects significantly the economy of Bangladesh, the workforce of the country is maintaining the growth by integrity and hard work.
By Tawfiq MD. Hasan*
It is believed that to increase development, the need for energy is a constant, required by any developing economy. In Bangladesh, the economy has been agriculturally based, with labour intensive work and plentiful land. However, when the population started to grow, the availability of land decreased and need of food security increased. Over the last two decades, Bangladesh has seen tremendous growth in the industrial and service sectors. Bangladesh's ready-made garment industry has become the second largest in the world. And, the agricultural sector of Bangladesh's economy is now becoming more depended on modern machines for more productive food generation. Though the production of crops depends on traditional manual labour with animals, processing of crops are now reliant on automated methods. The service sector has also shown such notable progress that employers from developed countries are now hiring from Bangladesh.
To maintain all these positive processes as seen in its development, Bangladesh is facing higher needs for energy. The need for energy, especially electricity, is so high that people cannot think of a single day without it. Every sector of the economy is in need of constant supply of electricity. From education to health services, from agriculture to industry, everywhere there are consistent demands for electricity to keep up the services and production; even in households.
The demand for electricity in Bangladesh is now rising to 10 gigawatt and will move to 20 gigawatt in the next 10 years where the national production level is still at only around 7 gigawatt. The production of electricity is today depended largely on native natural gas extraction and use of imported fossil fuels.
The cost of electricity generated from fossil fuel is getting higher day by day because of its non-renewability. We do have large coal mine sites in our country but the size of the population that its development would need to displace is so big that the government as yet could not find a way to manage that issue before it can access that resource.
The government has also initiated use of solar photovoltaic panels to generate electricity but only at the household level. The fragmented sate of the country's small-scale production might help reduce the need of households but cannot save the economy, while the cost of installing solar panels is high and poor people cannot afford it.
The capital of Dhaka is one of the most densely populated cities in the world with 20 million inhabitants across just only 10 square kilometers. Modernization puts a high demand on electricity but the country has not got the resources to produce at the required level.
There were protests related to lack of electricity, even from long ago!
On 24 October 2005, in Kansat, Nawabgonj, people died in the protests while clashing with the law enforcing agencies of the state. They were demanding the steady supply of electricity for maintaining their agricultural production. On 5 May 2005, in Jatrabari, Dhaka, the member of parliament of that area was run down by agitated people who were making demands for a better electricity supply. Every year the government is spending billions of taka more to try and ensure enough production of electricity while the demand keeps on growing higher and higher every day.
To overcome the deficiencies, the Bangladesh government is importing electricity from India and speedily establishing power plants. These matters are creating an impact on the economy seen in fuel price hikes, as the cost of electricity per unit usage rises. The question remains do the process relying on of electricity production appear sustainable or should we look for other measures to maintain the demand of energy, thus electricity?
The concern of electricity production is so urgent for Bangladesh that there was a rush to establish a nuclear power plant of 1 gigawatt in Ruppur, Pabna, and a coal power plant in Rampal, Bagerhat, which is on the edge of the Sunderban, the largest mangrove forest in the world. The problem is, using fossil fuels like coal or oil, will create considerably negative impacts on the environment which will not be sustainable over the years.
Concerning nuclear energy, this always raises the question of safety and its critical waste management system. In today's world, the need and safety issues regarding nuclear power plants are under serious criticism. In a country like Bangladesh, the need for energy is so intense that the government is rushing to implement projects despite serious arguments from its concerned citizens.
We are using natural gas mostly but at times our fertilizer factories remain closed owing to lack of electricity which in turn impacts on the agricultural sector. So the urgency of using renewable energy is getting more and more dire day by day.
We have a dam in Kaptai, Khagrachari, but that is almost expired, it's at the end of its lifetime.
Other options are solar, wind etc. Government has initiated the use of solar panels but it's not cost effective without mass production as in Germany where overall they produce nationally 22 gigawatts of electricity per hour. They made this possible with mass production and by establishing solar panels in open fields – which Bangladesh lacks. To ensure sustainable electricity generation there are many concerns, not only for us but around the world. We ask for everything from the government even though we know about the limited resources. Did we ever ask ourselves what we can we do about saving electricity because it's us demanding so much of the government?
The developed world is moving forward by technological upgrades of electronic appliances whereby they can minimize the consumption of electricity each month. In 2008, the Ministry of Power, Mineral and Natural Resources initiated a project called Efficient Lighting Initiatives of Bangladesh (ELIB). The project covered almost 30 million households by giving them energy efficient lighting to save electricity. As a result, now we can see that people are using energy efficient lights more because they understand that they consume less electricity and they are said to have a long lifetime.
The energy efficient lights costs more than a regular tube light but have the same luminosity and longevity which reduces the lifetime costs. In other words, by using these lights people can save money. As an example, street lights are turning from yellow to white because sodium lights cost more to run though the purchasing price is less. Similarly, all modern electronic appliances might cost more in the initial purchasing but save more over their total lifetime.
The question is how we measure the lifetime of an appliance and the saving of money and electricity. Every international and local electronics brand has categorized their products by standards of energy efficiency. The products last long and they give guaranty on their products. In local markets, there are many products which are low in quality and cost. They don't last long but their low cost attracts customers.
There are even many modern appliances that can be used by monitoring through smart phones. One of these is called an energy meter. It has smartphone application by which one can set the time of any domestic appliances on time, duration of use and switch off time from anywhere. By using such, one can use modern technologies but save money too. It is all about awareness among us to initiate the use modern technologies to minimize the demand of electricity but using the appliances to fully meet needs. Many of these modern appliances can save electricity up to 70 percent thus the cost of electricity using them is less than with regular appliances.
So, when we go to market to buy an appliance we need to ask ourselves do we want to save money the one time or for more than that? Today people use laptops, LCD televisions and smartphones because they are modern technologies. These things also consume less electricity which is another benefit.
As with the ELIB project, government should look at other options for creating awareness among the people about energy efficient appliances and their use. The producers can help the government in this regard because there is an information gap between buyer and producers. If they labeled their appliances clearly so we can see which one is more efficient, the customers will buy that product – and this benign competition can sort out the poorer products.
It is true that most people are not well off economically and they also lack knowledge about matters of cost effectiveness. Thus the demand may rise but efficient appliances can hold it at a certain level. In this sense government can come forward with its resources to inform the people who can choose to use efficient appliances which will relieve the burden of paying for electricity, at least to some degree!
*The writer is a post graduate student at Department of Development Studies, University of Dhaka.