Towards a Change of Culture Leading to a Gender-Balanced Approach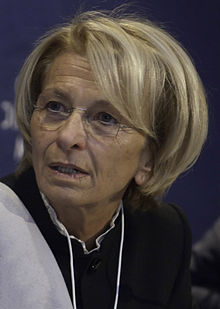 In this column, Emma Bonino, the Italian minister of foreign affairs, writes about progress made in strengthening women's rights, and the challenges that still lie ahead.
ROME, Dec 23 2013 (Columnist Service) – The past three years have been very important to scale up the movement to protect the rights and fundamental freedoms of women and girls and, particularly, to eliminate female genital mutilation worldwide.
We saw the political momentum growing and culminating December 2012 with the consensual adoption by the General Assembly of Resolution 67/146 banning female genital mutilation worldwide.
On that occasion all United Nations member states sent a strong political message about their commitment. The resolution calls upon member states to ensure effective implementation of international and regional instruments protecting women's rights and to take all necessary measures to prohibit female genital mutilation.
The resolution was an important step forward; it is now our responsibility to ensure its effective implementation. The recent UNICEF report reminds us that despite the best efforts towards its abandonment, female genital mutilation still persists.
For this reason, during the General Assembly this year we organised a side event, together with Burkina Faso, UNFPA and UNICEF, to share specific contributions that governments and international institutions have made to the commitments undertaken with the adoption of the resolution.
Genital mutilation is only one of the manifold forms of violence women are still suffering all over the world. Just to mention the example of my own country, over 100 women have been killed in Italy this year, mostly in the context of domestic violence.
To reverse such a terrible trend, we have increased government action against crimes that victimise women. I am also very proud that Italy became the fifth member state of the Council of Europe to ratify the Istanbul Convention for preventing and combating sexual and domestic violence.
The same happened with the ratification of the Arms Trade Treaty, which introduces principles and criteria to oversee the movement of arms and to combat illegal trafficking. Such treaties contain an explicit provision on gender-based violence.
Women are the first victims of such trade. This also goes in the direction of a general change of culture leading to a gender-balanced approach in peace-building processes.
Gender-based violence was also the common denominator underlying the discussion at the high-level meeting during the General Assembly last September of the Equal Futures Partnership, the initiative launched by former U.S. Secretary of State Hillary Rodham Clinton which Italy just joined.
This is a partnership uniting nations firmly committed to closing the gender gap and to sharing experiences so that local practices can be replicated all over the world.
A less blatant but nonetheless harmful form of violence against women is the practice of early and forced marriages. We must take every opportunity to recall the importance of eradicating this practice in one generation's time span, accelerating change in culture and traditions through a vibrant, ongoing campaign.
For this reason we also call for the inclusion of this target in the post-2015 development agenda.
A very encouraging step was the approval last month by the U.N. General Assembly's Third Committee of a resolution aimed at achieving a ban, within the next 12 months, on early and forced marriages. This resolution – promoted by Italy and nine other countries – was co-sponsored by 109 countries and was approved by consensus.
Violence against women also encompasses trafficking and slavery. This is a particularly
painful subject for me: it is very sad and frustrating to feel helpless when hundreds of migrants, women and men and children, tragically die off the coasts of Lampedusa (in Sicily). For this reason we are insisting on a common European effort within the framework of the Mediterranean task force led by the European Commission to combat human trafficking.
This leads me to talk about the situation of women in our neighbouring countries in the Southern Mediterranean. In some of these countries the promotion of women's rights has a long tradition.
In other cases gender issues have been promoted by those autocratic regimes which the Arab Spring swept away, as they became instrumental for them to show their modern face to Western allies while continuing to violate other human rights.
Whatever the reasons for their past promotion, we must continue monitoring to avoid any setback, like attempts to delegitimise the Personal Status Code (adopted in 1956) in Tunisia or to misapply the law imposing sanctions for female mutilation in Egypt.
For this reason we should increase our efforts in initiatives like the one undertaken by the European Union and United Nations, "Spring Forward for Women", which includes measures to ensure effective access by women to economic and political opportunities in the Southern Mediterranean region.
On the Italian side, I would also like to mention an initiative we successfully launched last February and that we will repeat next year: Women in Diplomacy School. The school aims at giving women specific tools for their empowerment as leaders. It is open to the participation of young women from our neighbouring Mediterranean countries.
The Women in Diplomacy School is part of a wider project that Italy has launched in view of the Expo Milan 2015, the Women and Expo initiative.
Our ambitious goal is to make Expo 2015 in Milan the first "gender Expo" ever, hoping that this will serve as an example for future editions.