Occupy, dead or evolving?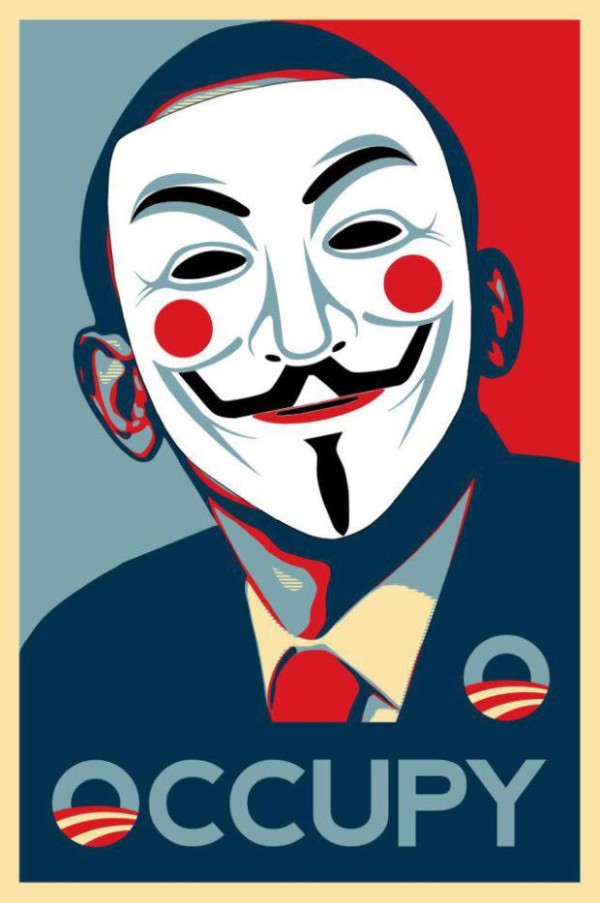 "Out of sight, out of mind" was translated into Spanish some years ago during an EU summit as "locura ciega" ("blind madness"), very fitting for the feeling many have that Occupy, the inspired and inspiring movement that opened a ray of hope for millions of people has all but disappeared. Because if Occupy does not grow and change the system, who will? Very few people have faith that the traditional political parties will actually wake up and produce the profound changes that humanity is in desperate and urgent need of.
An article/interview by Debby Burssens and Chris Wauman (Un otro mundo .news) seem to express such sentiment.

"Occupy is dead, the discontented American alive
"The Occupy movement is dead. "But today the problems are still there" says producer David Martinez, who launches his documentary 'Autumn Sun', which he says he produced "for everyone who wasn't there". Martinez is an anarchist without tattoos, who grew up in a liberal Texas Mexican-American family, he is in his own words a 'typical American'.
"Previously Martinez made documentaries about the occupation of Iraq, and rebel groups in Darfur. 'Autumn Sun'  is the story of Occupy Oakland, which was a part of the Occupy movement that happened in Oakland, a busy port city with strong liberal grassroots, situated in the Bay of San Francisco, California. In 2009, during the occupation of one of the buildings at Berkeley University, protesters were already chanting the slogan "Occupy Everything".
"This was long before Occupy Wall Street got the attention of the mainstream media. "There is a rumor that the activists in New York phoned their comrades in Oakland wondering which name the movement should have, and that was where Occupy as a name came from", according to Martinez.
"It is here, in this same Oakland, that the 'Black Panthers' were founded and that a lot of social movements and many student protests have had their home as well. Martinez continues: "Oscar Grant, a 22 year old boy, was also murdered in Oakland in 2009 and the shocking video images went around the world".
"This young Afro-American man was pressed to the ground by 2 policemen, after which one of them shot him in the back. This happened on New Year's day, at the metro station of Fruitvale. The protests that followed were enormous. And although this case was not the first in its kind, it was the first time that a policeman on duty was accused for murder (ed. the final sentence was only 2 years of prison for involuntary manslaughter)."
"No police!
"And so no one was surprised that the park, occupied by Occupy Oakland on October 10th 2011, got the name 'Oscar Grant Park'. "Whenever an officer came, we massively chanted: "No Police! No Police!" until they were gone. Because the police in Oakland are a very strong force, this was a powerful symbol", remembers Martinez. "It is completely different than in Europe. Police repression is a huge issue in the U.S. For example in Texas, where I grew up, people are put in jail for no reason, and there are no public defenders to help them. And if there is any sort of demonstration, people are hit with serious fines, which scares people off."Arab Spring, Indignados, Alcatraz, Martinez made some other critical works such as the documentary '500 miles to Babylon', a story about the early days of the American occupation in Iraq, and 'Songs to Enemies and Deserts', a story about the interaction in Darfur between farmers and rebels who are fighting against the Janjaweed and the army of Soudan.
"Why a documentary about Occupy Oakland? "This project chose me", says Martinez. "I had just watched the beginning of Occupy San Francisco, when friends called me regarding the foundation of Occupy Oakland. Despite being familiar with activists, they hardly knew the attendees on that first meeting. This meant that there was a new large group of engaged people. I was immediately interested."
"I made this film for all the people involved with Occupy around the U.S., but who could not be at Occupy Oakland", says Martinez, who places the movement in a broader context and submit links with the 'Arab Spring' and the 'Indignados in Madrid'. He also shows flashbacks, such as the occupation of Alcatraz in 1969 by indigenous people, and the student rebellions in California in the 1980's.
"Who is the regular American?
"What was the most difficult part of this documentary? "Apart from the tear gas, the most difficult was editing – what shall I tell and what not? Before Occupy, the American right-wing was convinced that they were the 'regular Americans'. Protestors were labeled as freaks by politicians and media. "No wonder that they have debts", they said."
"Partly thanks to the participations of veterans in Occupy, that image was changed. Populism was taken from the right wing, now the message was: 'You can be mad, you can have debts, you can protest, and you can still be a 'regular American'. This part of the story is not told in the documentary. Martinez smiles, "That part would be a film by itself".
"The sequel of Occupy
"If we ask Martinez if Occupy changed things in his country, he becomes serious. "Despite being very inspiring, nothing really changed. The movement itself may be dead, but all the problems we put into the picture are still with us today. More and more people are homeless, more and more people have outrageous debts, and income inequality in the U.S. continues to grow.
"Furthermore at this moment the US is a very politically unstable country, where the right as well as the left are both extremely dissatisfied."
"According to Martinez, sooner or later this will have to erupt. "A new movement can arise at any moment. Probably with another name, but the same problems will cause another reaction. I am sure of that."
On the other hand
Occupy may have disappeared from some of the cities that participated in the most visible way, but it has not died. There are many "occupiers" working and networking with other movements, the indignados, the springs, the new proposals for new societies, new economic forms, new and more real democracy, fighting inequality, denouncing debt, fracking, the Banks, the destruction of the environment, the Free Trade Agreements that will squeeze even more those already affected by draconian austerity, in sum, Occupy has become a gigantic think-tank and nonviolent direct action force for change difficult to fathom because the mainstream media has lost interest in it. The refusal to have "leaders", visible faces, vertical structures and rigid manifestos has also contributed to Occupy's apparent disappearance, at least in the eyes of the public that expects movements to continue functioning like they did in the '70s. But for those who tap regularly on social media and alternative websites Occupy is alive and kicking and building strength at grassroots level and expanding its influence. Actor/comedian Russell Brand is making ripples in the UK, challenging the political and economic system; he acknowledges being inspired by Occupy. There is an important movement of students and lecturers to change the way Economics is taught at Universities, "post-crash economics", also inspired by Occupy.
Occupy will not die because it is part of a New Humanism that is awakening throughout the planet. It may appear with different names and formats but it will express the real needs of people in a horizontal and consensus seeking way.