Kerala activists support courts against criminal politicians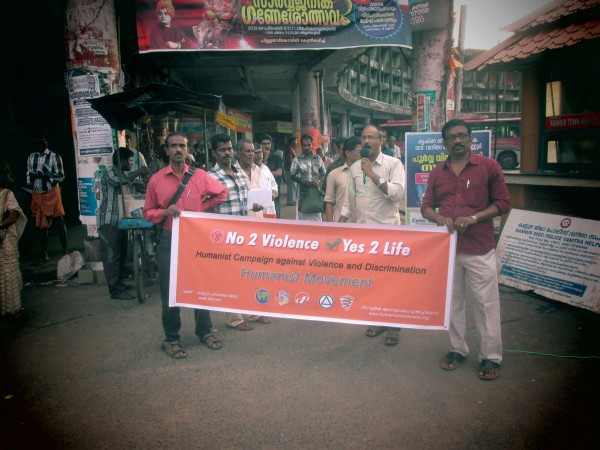 On the first day of October this year an SMS campaign was conducted, addressed to around 5000 students, in two collages. Further, 5,000 leaflets were distributed asking the students to send SMS messages to political leaders of Kerala. The mobile numbers of the all major political parties are given in the leaflet. The main demand of the SMS campaign was to support disqualification of criminals present in the Indian parliament.
On the next day, 2nd October, the organisers and their supporters gathered at the Kannur Stadium corner to publicly address the people to ask everyone to send like SMS messages to the political leaders. The program was conducted at 5-o-clock in the afternoon.
"When Parliament has singularly failed to stop the entry of criminals into its portals, the Supreme Court has taken upon itself the task of tackling what has become a serious blot on our democratic system," Humanist Movement member Byju Chalad informed Pressenza.
"The court came out with an important judgment on July 10 to ensure that those who are convicted of serious crimes cannot sit in Parliament or State legislatures simply by filing an appeal. The crucial verdict struck down as unconstitutional Section 8 (4) of the Representation of the People Act that gives elected convicts the cover of appeal in order to sit in Parliament or State Assemblies for years.
"In one bold stroke, this cover has been rightly snatched away. Convicted legislators who are already on appeal have not been touched by the court's verdict," ended Byju Chalad.
In order to override this court's verdict the Union Cabinet on Tuesday 1st October cleared an ordinance to protect convicted MPs and MLAs from immediate disqualification — a move that seeks to nullify an order by the Supreme Court.