India – spreading smiles to revive humanity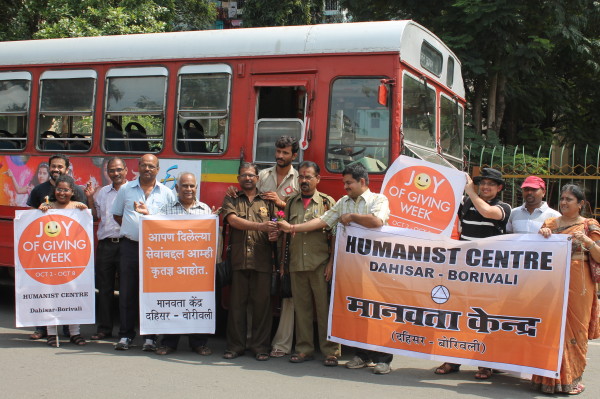 With Joy of Giving Week on the horizon, Humanist Center Borivali-Dahisar* takes the opportunity to spread cheer amongst BEST, BMC and Borivali police station officials. 
By Sajid Patel
Brihanmumbai Electric Supply and Transportation (BEST) bus drivers and conductors, Brihanmumbai Municipal Corporation's (BMC's) clean up marshals and Borivali police station officials had a reason to smile and work even on a national holiday like Gandhi Jayanti thanks to the Humanist Center Borivali-Dahisar.
"I was just carrying on with my routine job on Gandhi Jayanti, when a volunteer boarded the bus near IC Church bus stop and handed me a rose and a chocolate. Surprisingly, he said they were giving roses and chocolates to every bus driver and conductor. It definitely made my day," says Kishore Pachange, a BEST bus driver.
The initiative was part of the Joy of Giving Week celebrations, which began on Wednesday. "We gave roses and chocolates to more than 40 bus drivers and conductors at two locations early in the morning. We were at Dahisar Bridge from 10am to 12pm and at IC Church bus stop from 12pm to 1.30pm with a team of eleven volunteers. The bus drivers and conductors were very receptive of the same and thanked us in return," says Sharath Salian, a volunteer.
Roses and chocolates were also given to clean up beat marshals and policemen. "They had a million dollar smile on their faces, when we approached them with roses and chocolates. It made them happy to find residents take out time to greet them personally," says Ranjana Gokhle, another volunteer.
"Last year, an NGO had distributed free tea to all auto rickshaw drivers in the locality. Inspired by their initiative, we thought of bringing a smile to those who serve the society," says Kamakshi Sumit, a volunteer.
The initiative was also taken to spread the message of non-violence. "We gave officials a rose, dairy milk and a book written by Gandhiji in Hindi, English and Marathi. At first, they were a bit confused. But after explaining the reason, the smile on their face was priceless," says Ganesh Khare, another volunteer.
"We received a good response from volunteers on such a short notice. I would like to thank Sharath Salian, Ranjana Gokhle, Kulin Raichura, TP Srivastav, Kedar Paranjpe, Shanta Naidu, Kamakshi Sumeet, M Gangesh, Priya Gangesh, Abhijeet K and other volunteers for making it a success," adds Khare.
For original article see:
http://cityplus.jagran.com/city-news/spreading-smiles-to-revive-humanity_1381135521.html
*
Dahisar is a suburb of Mumbai. It is also the name of a railway station on Mumbai's Western Railway line, on the city limits, and is the last suburb and railway station within the Mumbai Suburban District.