Emotions and promises for paths of nonviolence: NONVIOLENCE AWARD 2013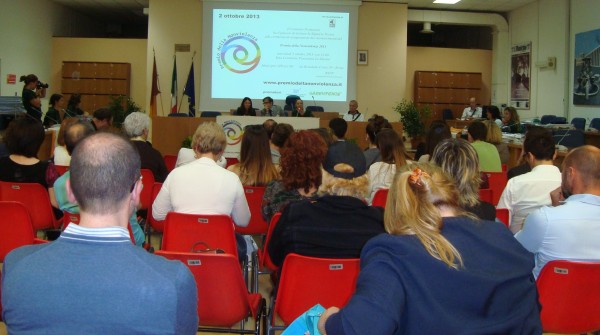 Rome, Italy.
Presented the awards to schools, associations and photographers
The Ceremony of Nonviolence Award 2013 has taken place in the boardroom of City Hall VIII (formerly XI) of Rome. Students of E. Fermi school of Macerata and of Ripetta art school in Rome were crowded in the room. Enthusiasm and excitement accompanied the event organized by International Organizations World Without Wars and Without Violence and Greenpeace.
The President of the Schools Commission of Roma Capitale Valeria Baglio, happy for this initiative, has indicated its intention to involve the Township to draw the path that in the next edition make all schools in Rome protagonists.
Action category winner was the association Di'Gay Project with his project ApertaMente, training program in schools for a culture of convergence and integration of diversities.
Schools Action category saw the award as well as of the school of Macerata, arrivedin Rome accompanied by its Deputy Mayor, even the teachers of G. Perlasca primary school of Rome.
The Photo Contest Gandhi was dominated by Stefania Daneluzzo of Milan.
Even the landlord Andrea Catarci, President of the Municipality VIII of Rome, underlined the readiness of authorities that he represents to enhance the commitment of the promoting associations World Without Wars and Without Violence and Greenpeace to raise a nonviolent consciousness from the new generations.
Cristiano Chiesa-Bini, from the Organizing Committee, visibly delighted with the success of the event focused on how this International Day of Nonviolence, on the day of Gandhi's birth, is celebrated with all kinds of events all over the world. "It is not enough – says Chiesa-Bini – just turn the spotlight on nonviolence only today, but we need to practice it in conflict resolution from the smallest to the biggest."
In short, even now the path to the 2014 edition begins.
More information about the Award:
www.premiodellanonviolenza.it
www.facebook.com/premiodellanonviolenza.it
tel . +39 347.7887462
info@premiodellanonviolenza.it