No to uranium plant in Jiangmen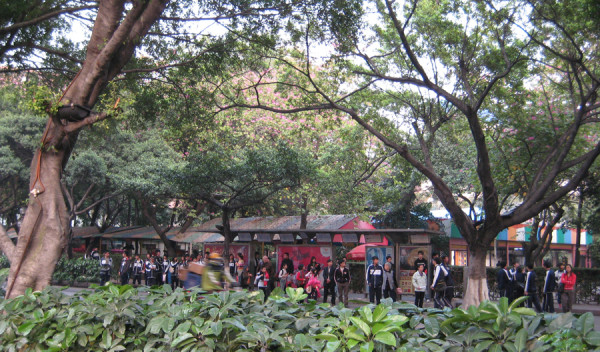 Jiangmen, about one hundred miles up the Pearl River from Hong Kong, has been the scene of thousands taking to the streets in protests against a proposed uranium mining and manufacturing project in that area. Authorities backed down over the project following marches by thousands of residents and pressure from Hong Kong and Macau
The sudden withdrawal of the plan for the 37 billion yuan plant, which was said to be able to provide enough fuel to meet half of China's nuclear power needs, came just a day after about 2,000 people gathered to protest against its construction.
A lesser number of protester, the farmers of Zishan where the plant was to be built, were all for the plan though and some had even got compensation monies which will have to be paid back!
This is only one among a number of industrial projects to be cancelled in China amid increasing public concern about the mounting pollution problems.
Jiangmen's Deputy Mayor Wu Guojie personally announced the decision to scrap the China National Nuclear Corporation (CNNC) project, in a move clearly timed to pre-empt further protests.
The plant was meant to produce 1,000 tonnes of uranium a year by 2020, and it included facilities for uranium conversion and enrichment, as well as for the manufacturing of nuclear fuel equipment.
The about turn was said to be due to the importance of the Pearl River Delta, which is at the forefront of China's reforms, and also in the backyard of Hong Kong and Macau.
After similar protests in Sichuan, Ningbo and Kunming, the province's government heads had to resolve the tension quickly, and effectively, or they would draw a lot of flak from the central authorities.
However, many locals remained suspicious that the announcement was a delaying tactic and were thinking that the municipal government will give reasons to resume the project at a later date.
The South China Morning Post (SCMP) reported that villagers in Zhishan's Lianzhu, that were planning to move out to give way for the uranium processing plant were disappointed with the decision, which was met with dismay. They suddenly found their hopes for a better life dashed. At present they live by growing fruit trees, raising pigs and fish.
Forty-eight households had signed agreements to participate in the local government's relocation plan for the 229-hectare plant. "Apart from an up-front payment of 220,000 yuan to be distributed among the families, villagers were expected to receive construction subsidies and farmland compensation and be moved to a new site the same size as their current village near their town government headquarters," the SCMP stated.
"It's a good deal for all the villagers," said an official from Zhishan town, which overseas the village. "The compensation plan had been made between the county government and 12 representatives for the 160 villagers."
In April 2013, the Jiangmen municipal government announced an industrial zone was set up in Zhishan, without providing details. Residents only realised the project's nature on July 4, after the authorities posted a 10-day public consultation statement.
The Financial Times lists other climb-downs in China:
May 2013 Construction of an oil refinery and paraxylene (PX) plant in Anning, Yunnan cancelled after protests in nearby Kunming.
May 2013 Construction of a lithium battery factory cancelled after hundreds of residents held three protests in Songjiang, Shanghai.
May 2013 Authorities thwart Chengdu protest against PX project in Pengzhou, Sichuan.
October 2012 Construction of a 56 billion yuan oil and petrochemical complex suspended in Ningbo after thousands of residents clash with police.
July 2012 Construction of an industrial waste pipeline scrapped in Qidong, Juangsu after protesters ransack local government headquarters.
August 2011 Top local officials pledge to shut and relocate Fujia Petrochemical's plant in Dalian, Liaoning after tens of thousands of residents take to the streets. The plant reopens in 2012.
June 2007 A PX plant is relocated after protests in Xiamen, Fujian.