Turkey – letters to the world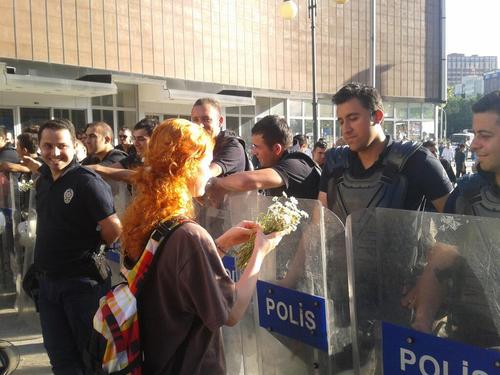 Dear humanist brothers and sisters from all over the world
from Hüseyin Öntas, Turkey.
Thank you for sharing testimonies of the people of Turkey with your loved ones. After all the violence in Turkey a different kind of siblinghood and solidarity was aroused among those here and the ones who are abroad. Today at least one is killed by the police with a real bullet and many are injured because of different types of violence produced by the police during the protests that are held in dozens of cities.
In the places where police didn't appear there were carnival type of peacefull and joyfull protests.
Now we all try to help each other to decrease our sufferings and overcome the traumatic effects of the existing violence. People are ready to face violence to protect others' now. Today I tried to share information with friends about how to protect ourselves from violence through social media as well as many other friends who did the same. I hope this doesn't put us in danger because some so called religious newspapers that support the violence of the officials started to attack human rights and humanitarian organizations such as Amnesty International. Also it might become dangerous to contact foreign people as they are spreading gossips about hundreds of foreign spies among the protestors. This experience of official violence united ordinary people such as us to defend human dignity and try to help each other to overcome sufferings caused by any type of violence. We try not to be divided into ethnicities, religious points of view, sexes, sexual orientations, races, the football teams or political parties we support.
What we shall defend now is our right to live in a good and healthy environment. What we shall defend now is our right to free expression and organization in peacefull ways. What we shall defend now is to get rid of any kind of violence in Turkey and in other countries.
There should be a new human rights document to be accepted by all states to regulate the use of force against mass demonstrations as a complimentary part of the humanitarian law. There should be a new international regulation to ban destruction of green areas in the city centers. Please demand these from your governments as well while you are supporting us with your towels in front of your windows and by blinking the lights of your flats every 9 pm.
We are here trying to learn to heal each others suffering without discrimination while we are rebelling against the violence we are subject to. So please don't share any information that can arouse hate inside you against the ones who support the violence in our country. Please be aware that among the police, among the government and among us who protest there is violence in different levels that we should escape from and liberate ourselves.
The ones who are responsible of the actions we protest against are not our enemies but our brothers and sisters whom we should care for and not harm while we are asking them to care for us. Please don't share any information that might be an invisible invitation for the soldiers to change roles with the police. Our problem isn't to choose between our oppressors, our issue is to liberate from our sufferings, by learning to cope with the violence inside and outside of ourselves.
It would be nice if you can demand from all rulers of every country(not only from ours) to accept the human being as the highest value without discriminating against people according to their differences. Please don't label human beings as "ours" and "others". It is a way to humanize and universalize ourselves and the world to be against any kinds violence but to be against the violence of the officials most. Please while asking for our wellbeing in your sacred places and ask for us to be cleaned from our anger and for us to be able to be in dialogue by clearing our demands from each other. But please dont forget to condemn the violent actions of the officials which killed and injured people who were protesting violations of human rights . Then may be we might have an aAccess to the sacred and not feel alone.
A warm and hopefull hug
Hüseyin Öntas
http://www.silosmessage.net/activities1.asp?LANG=EN&ID=126
*********
Note between friends regarding the situation in Turkey….
Dear Eduardo,
I will try to give an account of what I experienced this first evening after my arrival in Istanbul and Kadiköy. I send this message also to some other friends of whom I know they are interested in knowing more about what is going on in Turkey at this moment.
At about 22:00 hours I went with Jöntürk and one of his actual surfcouching friends (a young guy from Sweden) to see what was happening on the streets of Kadiköy, because I had been hearing noises everywhere and seen small groups of people passing through the street of our apartment.
We came directly in the middle of thousands of people walking calmly through the main road from the Bull Square to the waterfront, accompanied by many cars that hooted their claxons. Many people had pots and pans and were happily banging on them. Others had whistles and yet others used their voices exclaiming phrases which all had the same central theme: Erdogan, go!
But the atmosphere was very good, without any tension, a kind of liberating energy which had a very good feeling to it. Nobody was directing anything, everybody walking with each other, applauding each other. Many people on the walkways gave their support, also clapping hands. Many had the Turkish flag in all sizes. So we walked with the flow and everybody continued for a while on the big road alongside the waterfront. Really a lot of noise of every kind and all very relaxed at the same time.
At a certain moment everybody turned around and walked the same way back, where everything ended on the plaza in front of the ferry boat station. It seemed that the gathering of people had more or less come to an end and Jöntürk went to see until what hour there were ferries going to Karaköy (he wanted to go to Taksim later).
At that moment a ferry arrived with many people getting off. They started to clap in the direction of groups who still where on the square and they clapped back. And then suddenly everybody was moving again, now again in the derection of Bull Square. It was very strange because in no time there were many people again, all walking to Bull Square, continiously accompanied by the greetings of the many cars and taxi's. Like a big happening going on. I saw some groups walking into side streets, not knowing where they were going. At Bull some youngsters on top of the bull and invited everyone to go to the occidental side of Istanbul, to help those who were trying to get into the parliament building and were harrassed by the police there. Again different groups came out of seemingly nowhere and again applauses to each other. There was not one policeman in sight all that time.
The composition of the crowd was multi-diverse, from housewives to youngsters, girls and boys, not more than 14 or 15 years old.
Jöntürk took many pictures and also filmed quite a lot. These will appear in Facebook he promised. Jöntürk was totally happy, wearing a "V for Victory" mask.
We decided to get out of the masses and to go home. He and his friend went from there to Taksim, I went to the house to get my camera which I had forgotten, and to return to make some pictures and videos. In the meantime Huseyin had woke up from a late siesta, because he had not slept the whole night, monitoring events of the night before.
When we went out together to take pictures, there suddenly was nobody in the streets, apart from some small groups. So, no pictures. So we went for a chai. But when we walked home there was again a lot of noise in the main streets. Huseyin told me that it is going on like that and for the whole night. Big groups appearing and later dissapearing, then others coming who have been walking from other neighbourhoods. It seems that for the moment the people are going to do this each evening and night. In Kadiköy all very peacefull and with very good energy.
Also in Taksim it seems everything is peaceful now, people gathering and bringing tents, etc., staying the whole night. Many people help others, bringing food, water, many docters and hospital personal treating the teargas sprayed people in the more violent area's around the office of the prime minister in Istanbul. Also lawyers to get the arrested people out of confinement and all for free.
As a first hand experience of this evening inKadiköy, I feel the new sensibility express itself, joyful, liberating, and at the same time making clear that they want Erdogan and his government out. Making clear they are fed up with his authoritarian and repressive politics.
I talked on the phone with Mehdi and Aylin in Ankara to ask them if it was a good or bad idea to go there this Wednesday. They told me that in Ankara there is a lot of violence from the police agianst the rallies and that the whole of last night was terrible, especially in Kizilay and in the area arund the parliament building and the residence of Erdogan. Much teargas and watercanons and much direct physical violence, which seems to have gone on today and this evening. Mehdi went to Kizilay this evening and said all the bars and restaurants were closed. But they think that maybe Wednesday it would be more calm. It is clear they want me to come there. And I have it clear that I want to go there to be with our friends.
Huseyin told me that in 67 cities these 'defilé's' are now going on everyday, mostly nonviolent and peaceful. In Izmir the police do not interfere because there are not enough policemen and the masses are enormous. There they made a big festival with artificial fire and such. Masses and masses of people on the waterfront boulevards.
It seems that this will not stop. And we do not know which direction it will take. But for now it seems thousands and thousands of people everywhere are happy to be together in the streets and the squares venting their new felt freedom of expression which they themselves took.
Right at this moment Huseyin comes to tell me that in Besiktas and Taksim the police have attacked again the people there and with a new type of teargas and a new type of weapon to shoot it. Many people are arrested and taken and Çanan communicated that her son has disappeared and she does not know where he is, asking to send him wellbeing.
So you see every moment new things are happening. I do not know more at this moment. Anyway it would not be bad to do well being ceremonies everywhere for all the good people here who are suffering from all this senseless violence.
It also seems that there are many soldiers who are helping [us stand] against the violence of the police. There is no exact information about this at this moment. Also many people open their house for victims of teargas and/or give them water bottles, lemons and vinegar against the effects of the teargas.
This is more or less all for the moment. As soon as there are new information I will write to you.
With a very big hug,
Peter