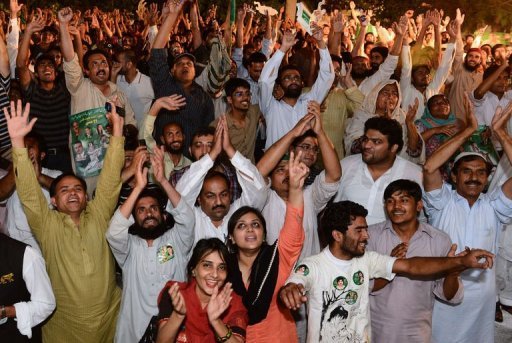 WELL DONE, PAKISTAN!
Pritam K. Rohila, Ph.D.
For quite a while the media has been flooded with dire predictions by various analysts, commentators, and experts, about the future of Pakistan. But the May 11, 2013 elections have proved them wrong. Even though terribly malnourished, bloodied and tormented, the Spirit of Pakistan is still alive and kicking!
In one of the most transparent, well-organized, and ably-conducted elections, more than double the number of male and female candidates, and about 16 percent more voters participated than in 2008, in spite of the targeted killing of political activists; murder and abduction of candidates; and disruption of election campaigns and events with threats and acts of terrorism.
Even some extremists were allowed to contest election. No nation can afford for long to just shun, exile, imprison or kill people with extremist views. They need to heard, and allowed to play a legitimate role in the society, but through debate and discussion, instead of via guns and violence.
All major candidates and political parties have promised to work for an all-inclusive Pakistan, where all its citizens, including all minorities can live and work with a feeling of security and sense of well-being. This will allow all people to contribute some to Pakistan's gross national product as well as to its gross national happiness.
They have also vouched to work for better relations with Pakistan's neighbors. Even the military claims to have abandoned its search for "strategic depth" in Afghanistan, and its pursuit of enmity with India, in order to devote more attention to the conditions at home. Further, perhaps based on their past performance, they seem to have realized that they have not done a good job of running its government.
Also for the first time in Pakistan's history, the elections were blessed by its clerics. About two weeks ahead of the elections, more than 300 of them, coming from different schools of Islamic thought, declared that casting vote had been an 'Islamic obligation.'
Thus Pakistan is poised to fulfill the vision of the Pakistan's beloved Quaid-i-Azam, Muhammad Ali Jinnah, as portrayed in his August 11, 1947 radio address to the young nation – a country in harmony with its citizens and in peace with people across its borders.
True that a lot of work yet needs to be done to revive Pakistan's economy; to do away with its persistent and prolonged power shortages; and to ensure public services for its citizens. Its leaders need to be courageous enough to accept responsibility for their past mistakes, instead of blaming others for them, and to adopt more wholesome ways to resolve the nation's problems.
They could start by saving their own money in the national currency, instead of hoarding it in Dollars and Euros; by investing their wealth in local companies instead of foreign stocks; by sending their children to neighborhood schools and local colleges, instead of prestigious schools, and foreign universities; by helping local police forces become more efficient, and better-equipped, instead of just having their own homes, families and persons protected by armed guards; and by starting to pay their fair share in taxes.
All those who consider themselves patriot and well-wishers of Pakistan need to rededicate themselves to nursing the Spirit of Pakistan well, so that not only it survives, but also thrives, in consonant with the hopes and aspirations of all its citizens.
The May 11, 2013 elections have already demonstrated what can be accomplished even in Pakistan, when things are done right. It is time that people of Pakistan learn from the country's past, and work hard for a better future for the coming generations.
Continued progress along these lines will make the proverbial phoenix to rise again! And a failure in this process is not a viable option!
For now the people and concerned officials of Pakistan deserve a heart-felt applause from everyone and anyone interested in the security, integrity and prosperity of Pakistan, for giving a boost to the democratic process and for making possible a peaceful transition of civilian governments, for the first time in more than 60 years. The least world can do is to shout:
Well done Pakistan!
__
*Dr. Pritam K. Rohila is Executive Director of the Association for Communal Harmony in Asia (ACHA). Under its auspices, and with the support of its peace partners in India and Pakistan, he has been actively promoting peace between and within the two South Asian neighbors. For this purpose, he has been on four peace missions to the two countries, during which he has met a variety of people from labor leaders to prime ministers, conducted peace camps for youth, published articles, and has given talks, and media interviews. More information about his work is available at ACHA websites www.asiapeace.org & www.indiapakistanpeace.org. He can be reached at asiapeace@comcast.net
Pritam K. Rohila, Ph.D.
Executive Director
Association for Communal Harmony in Asia (ACHA)
www.asiapeace.org & www.indiapakistanpeace.org
asiapeace@comcast.net