Promoting Peace in India and Pakistan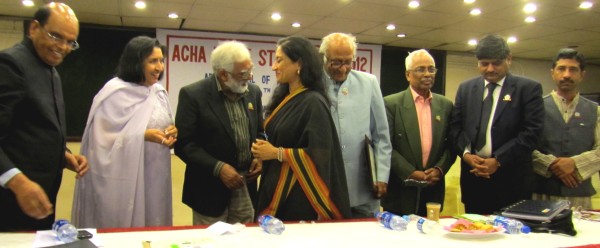 Promoting Peace in India and Pakistan 2013-A Report
Pritam K. Rohila, Ph. D.
April 7, 2013
After our last peace mission to India and Pakistan, I and Kundan, my wife and peace-partner, returned home, on March 19, 2013. Most probably, it was our final peace mission to this region.
Having realized that lately India and Pakistan have faced greater danger from what is happening within their own borders, than that from each other, like in 2008, the focus of our mission was peace WITHIN India and WITHIN Pakistan.
We conducted six two-day peace camps. They were hosted by our peace partners – Confederation of Voluntary Associations (COVA) at Hyderabad, Yuvsatta at Chandigarh, Peoples' Vigilance Committee for Human Rights (PVCHR) at Varanasi, Institute for Peace & Secular Studies at Lahore, Pakistan Institute for Labour Education & Research (PILER), and Therik-e-Niswan, both at Karachi. The hosts provided space and technical support for the peace camps, selected participants, and supplied meals as well tea and snacks. Some even arranged for their overnight stay. But most important were their enthusiastic welcome and continued encouragement for us, for which we will always be grateful to them.
One hundred and thirteen young men and women participated in the camps. They ranged in age from 15 through 46 years. About one-third of them were employees of the host and their allied organizations. The rest were students, mostly from the area colleges and universities.
Diversity was reflected in the participants of most peace camp. For example, the participants at the PVCHR (Varanasi) peace camp had been drawn for more than a dozen villages and city neighborhoods, and most of those at the PILER (Karachi) peace camp came from four universities and two NGO's. Also some hosts, even in Pakistan, selected participants from different religious communities.
We helped participants learn ways to be in peace with themselves, and with others around them, in their families, neighborhoods, and cities, including those who are different from them.
We used guided experiential, participatory, and interactive procedures to teach participants about ways to relax, deal with their regrets and worries, develop a positive self-image, think logically instead of following others blindly, solve problems creatively, interact with others positively, develop interpersonal relationships and handle disagreeable behavior effectively.
We used stories to illustrate and explain the psychological concepts and principles underlying our presentations. We used songs and poems to reinforce our lessons. Also, we showed them videos as examples of what kind of things could be done to promote harmony between estranged communities. The videos were selected from http://traubman.igc.org/peace.htm, the website of Libby & Len Traubman's Jewish-Palestinian Living Room Dialogue Group, in San Mateo, California.
Participants seemed to respond with enthusiasm to what we had to offer. For example, most of the participants who had registered for the Tehrik-e-Niswan peace camp came, in spite of traffic disruptions in Karachi, on February 17 and 18, which had been caused by general strikes, sit-ins, public demonstrations and road closures due to the massacre of Hazara Shias at Quetta, on February 16. Even some of them could not return home, and had to stay at a shelter, on the night of February 18.
About two months later, in a follow-up study, some of them still describe the peace camps, a "wonderful" and "enlightening" experience." One participant wrote, " (it was) something I would like to go through again, if given a chance." According to another one, "You taught us, how to create personal peace. And believe me, sometimes when I get so much frustrated, I use those tips you gave us….I would love to participate in next camp and I would also ask my friends and young relatives to be a part of this Peace Camp." Still another participant commented, "I had learnt how to have a positive effect in world by expressing my emotions, understanding other points of view, using words to solve problems, celebrating differences and reaching out with ideas of peace."
Thanks to Kundan for volunteering to handle the camcorder, that for the first time, we were able to videograph most of the proceedings of the camps. Sometime later, we plan to use these videos for a documentary on our peace efforts.
Also, for the first time in the history of the Association for Communal Harmony in Asia (ACHA), one joint ceremony was held for all the four recipients of the ACHA Peace Star Awards 2012, and that too in Karachi! The ceremony was organized and hosted by the Pakistan Peace Coalition and PILER, on February 19, at premises of the Karachi's Arts Council of Pakistan.
The recipients were Dr. Mazer Hussain of Hyderabad, Mr. Lajjya Shankar Herdenia of Bhopal, Mr. Pramod Sharma of Chandigarh, and Ms. Sheema Kermani of Karachi. ACHA Peace Star Awards are given, every two years, to individuals, who have performed meritorious work in promotion or pursuit of peace, especially in South Asia and communal harmony among South Asians.
We did some sightseeing too at Nalanda, Pavpuri, Rajgir, Bodh Gaya, and Patna in Bihar, and enjoyed a boat cruise on the River Ganga at Varanasi. And, in Gujarat, to visit the Jain temple complex of Palitana, we climbed up and down 3500 steps, which was our personal best accomplishment, so far. Finally, we spent some time with our family member and friends at Mumbai, Anand, Ahmedabad, Rohtak, Karnal, Patiala, Mohali, and Karachi.
Thanks to the gracious goodwill, hearty hospitality and enthusiastic support of our hosts, friends and family members, our trip was quite successful, in spite of my health problems, and participants' transportation difficulties in Karachi. We are grateful to them all!
Dr. Rohila is the Executive Director of the Association for Communal Harmony in Asia (www.asiapeace.org & www.indiapakistanpeace.org). He can be reached at asiapeace@comcast.net