1,000 days and counting: UN calls for accelerated action on the Millennium Development Goals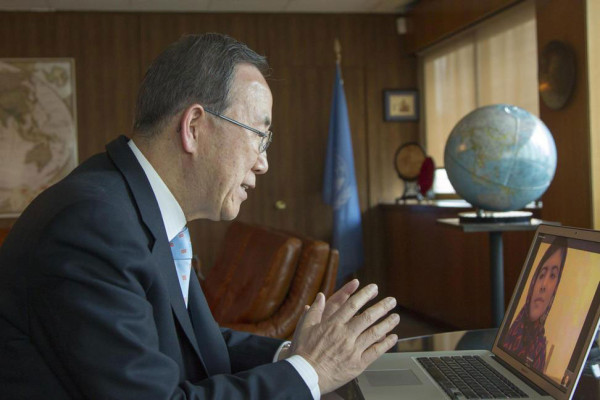 The United Nations today called for accelerated action in the next 1,000 days from governments, international organizations and civil society groups to reach the eight anti-poverty targets known as the Millennium Development Goals (MDGs) by their deadline at the end of 2015.
"The MDGs are the most successful global anti-poverty push in history," UN Secretary-General Ban Ki-moon said from Madrid, where later today he will formally kick off the campaign tagged "MDG Momentum – 1,000 Days of Action."
"The Goals have helped set global and national priorities, mobilize action, and achieve remarkable results," he added.
The eight time-bound MDGs address poverty and hunger, education, gender equality, child mortality, maternal health, combating AIDS, malaria and other diseases, environmental sustainability and a global partnership for development.
According to UN figures, since the MDGs were adopted by all UN Member States in 2000, global extreme poverty rate has been cut in half and two billion more people have gained access to safe drinking water.
In addition, according to those figures, maternal and child mortality have dropped. The world continues to fight killer diseases, such as malaria, tuberculosis and AIDS.
Plus, a record number of children are in primary school, with the number of girls equalling the boys for the first time.
Secretary-General Ban Ki-moon chats with Malala Yousufzai via Skype in Madrid, Spain. UNTV
Given the importance of education in the MDGs, Mr. Ban chose today to speak by Skype with Malala Yousufzai, who was shot in the head and neck for opposing Pakistani Taliban restrictions on female education in the Swat area of Pakistan.
Ms. Yousufzai told Mr. Ban that she is in good health and wants to use education "to achieve peace and happiness".
At a joint press conference with Prime Minister Mariano Rajoy of Spain in Madrid, where he will today accept the New Economy Forum Award, Mr. Ban said, "We all have a responsibility to make the most of the next 1000 days and fulfil the millennium promise to the world's poorest and most vulnerable people."
Starting today, the UN will work with partners around the world to spur momentum to achieve greater gains by the 2015 target date.
On social media platforms, UN agencies, partners, and individuals are participating in 1,000 minutes of online programming about building momentum under the Twitter hashtag #MDGmomentum. Organized in partnership with UN Foundation, participants are invited to be active in Google hang-outs, Facebook chats and Twitter dialogues about the MDGs from across the world through Saturday, 6 April, at 1pm EDT.
Among the events is a Twitter photo rally asking UN staff and partners to tweet photos that illustrate the local impacts that MDGs have for communities around the world.
Meanwhile, Mr. Ban and youth from the Spanish and European Youth Councils yesterday highlighted the MDGs at a special event joined by heads of UN agencies, funds and programmes who are visiting Spain for a senior-level UN meeting.
In an opinion piece he penned for Spain's main newspaper, 'El Pais', Mr. Ban urges the international community to accelerate progress towards the goals by increasing targeted investments in health, education, energy and sanitation; empower women and girls; focus on the most vulnerable people; keep up aid commitments; and re-energize efforts from governments to grassroots groups to make a difference.
Mr. Ban wrote that "cynics expected the MDGs to be abandoned as too ambitious. Instead, the Goals have helped set global and national priorities, mobilize action, and achieve remarkable results."
He adds that success in the next 1,000 days "will not only improve the lives of millions, it will add momentum as we plan for beyond 2015 and the challenges of sustainable development."
Also today, Achim Steiner, UN Under-Secretary General and UN Environment Programme (UNEP) Executive Director, praised the MDGs, particularly Goal 7 on environmental sustainability, for contributing to "considerable progress in respect to the provision of water and the extension of National Parks and other protected areas on land and, to an extent, at sea."
He cautioned that challenges remain, particularly in putting the environment and its natural or nature-based assets at the heart of sustainable development.
"The post 2015 development agenda affords a further opportunity to deliver goals based on broader notions of wealth – from the planet's freshwaters to its forests, soils and atmosphere – and the urgency to decouple economic growth from pollution footprints and over-exploitation of humanity's finite natural resources," Mr. Steiner said.
The original article can be found on the UN News Centre website, here.