Bangladesh blogger murdered amid massive protests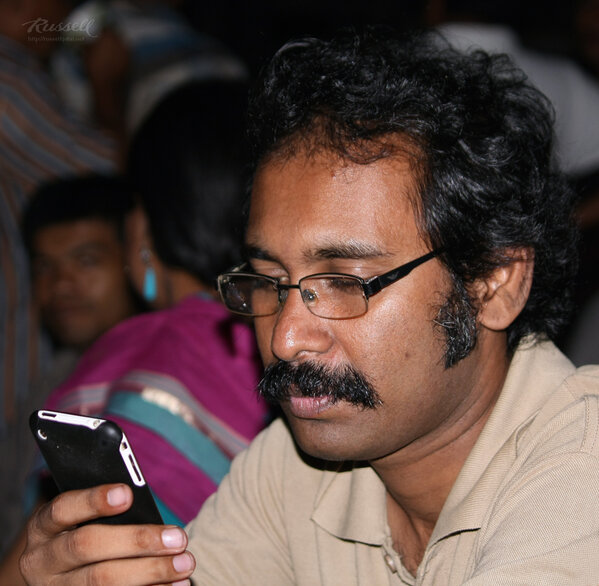 While thousands of demonstrators continued their agitation and occupation of the streets and in particular the protest hot spot of Dhaka's Shahbagh Squre intersection, a blogger activist was stabbed – his efforts joined those caught up in the hysteria of a mass demand for a death sentence for Jamaat leader Abdul Quader Mollah, not just the life sentence handed down.
Protestors included teachers, students, politicians and cultural activists, who vowed to continue the movement until their demand is met.
Forty-two years after the Liberation War, old memories and sentiments of the Bangladesh liberation were rekindled as the multitudes refused to leave the street and go home until their demand for capital punishment for Bangladesh 1972 war criminals were met.
The sudden agitation began on 12 February, 2013, after a Bangladesh 1971 War Crime Tribunal gave a life sentence to Jamaat leader Abdul Quader Mollah, with the unrest continuing throughout the night.
"The spirit of the protest spread to other parts of Bangladesh," reports Nasrul Jashim, humanist activist, "with sit-ins and demonstrations taking place in Chittagong, Sylhet, Rajshahi, Rangpur, Sunamganj, Barisal, Rajbari, Noakhali and Narsingdi," and by 15 February, such were the heat of the protests in Cox's Bazar there were three deaths – on top of the one in Dhaka and the other in Chittagong.
Bangladesh Jamaat-e-Islami has called a countrywide dawn-to-dusk general strike for 11 February besides the daylong shutdown in Cox's Bazar district for the 16 February in protest against the killings. These might be a last gasps because popular opinion now calls for the party's dissolution.
In the capital's Shahbagh, different political parties and their student wings joined the rally that began as a people's movement. The parties included the ruling Awami League, Workers' Party of Bangladesh, Communist Party of Bangladesh (CPB), Jatiya Samajtantrik Dal (JSD), and Bangladesh Samajtantrik Dal (BSD).
"The spirit in Shahbagh is infectious as people kept breaking out in chants of 'Tui Razakar' [in English – you're a war criminal] and sang gono shongeet (mass song) in unison," Jashim reports.
"Dhaka University Art Institute students painted murals and caricatures of the known war criminals while others made effigies with papers and slogan boards and hung them from poles," Jashim says. "There was even a life-size game of 'Razakar ludu' – a game of snakes and ladders with the war criminals as the main players. Street plays and dances lent the event a festive air, without lessening the gravity of the protestors' demand for the death sentence. Candle light vigils and torch processions have continued after dark."
Now there is an added dimension among the young because news of the killing of blogger Ahmed Rajib Haider (blogger ThabaBaba – #shahbag) is circulating – he too demanded the death penalty.
The so-called International Crimes Tribunal is questioned not only about that decision but about its credibility and fairness. Also, the government is under strong criticism. This is annulling any credit it might have earned for bringing the perpetrators of war crimes to justice, and this disjoint indicates a different perspective of the youthful who have largely distanced themselves from the ever squabbling political parties, the powerful families ruling either side of the political divide.
…"A spontaneous uprising of conscientious and conscious young men and women, deliberately distancing itself from the established political leadership and entities, this is the most exciting moment in Bangladeshi politics for years," is one line by Zafar Sobhan, editor of the Dhaka Tribune, a daily newspaper.
As that commentator says, "It is richly ironic that the current opposition to the government is from those supporting the war crimes trials and not against them. This is opposition from a direction the government never anticipated, and if they are not able to either co-opt or cool down or otherwise contain this mobilisation of consciousness and awakening of activist emotion, it may yet consume them."
The prosecutions are long overdue. Over four decades the ghost of the atrocities and crimes committed during the war of independence have echoed around in the Bangladeshi psyche. Initiated by the Awami League on their return to power in 2009, the nation has begun to better come to terms with its past and could move forward as a whole.
Each of the 10 of those on trial for war crimes had moved into senior political positions, in either the Jamaat or the Bangladesh Nationalist Party (BNP), and were figures of massive influence and respect and two were ministers in Khaleda Zia's last alliance government.
It was well known and was darkly spoken that people like Abul Kalam Azad, a fugitive from justice for the past 10 months, were able to avoid prosecution and were able to remain powerful and influential figures pointed at the underlying problems at the heart of the Bangladeshi society and government.
21 January, 2013, will find a place in Bangladesh history as the day the first war crimes conviction was handed down, against Abul Kalam Azad aka Bachchu Razakar, 65, found guilty on seven counts of murder, rape, abduction, torture, and genocide, and sentenced to death in absentia.
"A more punctilious judicial process that was not open to any question would have served the nation immeasurably better," continues Zafar Sobhan, "even better than a judicial process, a truth and reconciliation commission would have been even more useful. I for one would be willing to trade punishment for a full and honest accounting and apology."
In this stand he is one of a minority on the streets that don't support the death penalty for any crime, no matter how heinous. For now though, the heady street action has the populous fired up.
As spoken by another commentator on the Bangladesh protests, "Something exciting is happening inside Bangladesh, and the verdict is simply a catalyst, but the people must exercise extreme caution not to allow passion to trample the fundamental underpinnings of democracy," Frank Domenico Cipriani, founder of The Gatherer Institute.
He says the fact that Abdul Quader Mollah was even brought to trial is remarkable considering the easy fate of some of the most of notorious war criminals in post Cold War history and goes on to list (as an apologetic USA citizen he concentrates on his own backyard!):
"1953, Iran: Mohammed Mossadegh threatens to nationalize British Petroleum interests in Iran. The US supports the overthrow of Mossadegh and he is replaced by Mohammad Reza Shah Pahlavi. The regime's secret police, SAVAK, regularly tortures and murders any Iranian deemed "Enemies of the State." Pahlavi rules as Shah of Iran until he is overthrown in 1979. He dies in exile, never standing trial for treason or crimes against humanity.
1954, Guatemala: After a democratic government is deposed by the CIA, Efraín Ríos Montt eventually comes to power in Guatemala. In a non-binding tribunal conducted by the Roman Catholic Church, Montt is convicted of massacres, rape, and torture, and for carrying out a policy of genocide of the indigenous people. He is purported to be responsible for the death of over 200,000 of his countrymen. He gained immunity, and is only now, in 2013, standing trial.
1959, Haiti: US helps install "Papa Doc" Duvalier. He and his son, "Baby Doc," initiate a reign of terror in which over 100,000 people are killed. The Haitian government has recently put Baby Doc on trial for corruption only, despite the carnage of his regime. Duvalier may, in fact, dismiss all cases against him. The former dictator lives freely and opulently in Haiti.
Dictatorships in Brazil and the Dominican Republic, killed thousands. No one was ever brought to justice. Chilean Dictator Pinochet, Indonesia's Suharto, Pol Pot, and Milosevic all escaped punishment of any sort."
It is timely and opportune that the trials take place and the debate and confrontations are necessary, the only caveat is, why the violence and on that score, why the death penalty when imprisonment for life gives that long period of isolation for a reconsideration of how changes should take place, with least harm to the nation and its nationals.