Israeli Occupation Demolishes Palestinian Houses, Structures in Hebron
This post is also available in: Italian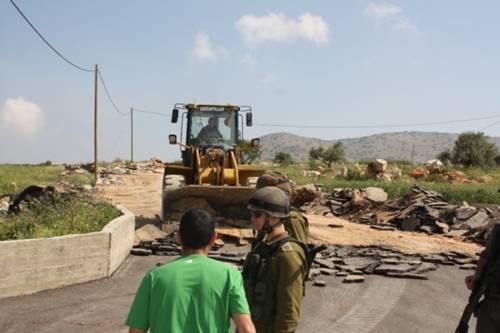 Following on Pressenza's recent coverage of the eviction by Israeli forces of the attempted new village on Palestinian territories , Israel starts clearing more land in preparation for settlements.
On Monday 14th January, bulldozers of the Israeli occupation authority demolished several Palestinian houses, agricultural structures and barracks belonging to al-Hathaleen family, adjacent to the settlement of 'Carma'il' that was established on Yatta land, south of Hebron.
Coordinator of the Popular Committees to Resist Settlement and Apartheid Wall in Yatta, Rateb al-Jbour, told PNN that Israeli bulldozers started since the early hours of the morning, to demolish the houses and structures and prevented the citizens from protesting against the demolition process.
Al-Jbour said that surprisingly, the Israeli bulldozers came to the village to demolish the Palestinian properties without pre-warnings, adding that this process came in preparation to confiscate all the lands adjacent to the settlement.
Al-Jbour said that the Popular Committees will raise this case to the human rights institutions.
It's worth mentioning that the Israeli occupation is deporting and displacing the Palestinian citizens who reside in that area, and that this is not the first time that Israeli occupation demolishes houses and structures on claims they were built on a military area.