Indian media pushing for change after gang-rape case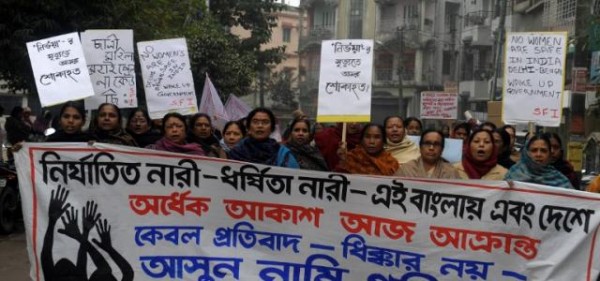 The response to a recent horrific gang-rape and murder case has highlighted the power of media to stimulate debate and change attitudes.
The gang-rape and murder of a 23-year-old medical student in New Delhi last month has grabbed headlines around the world, with rights groups and members of the public condemning the attack and calling for stricter laws related to women's abuse in India.
The media in India has also focused on Jyoti Singh Pandey's case, providing comprehensive coverage of the fallout from a story which has shocked the nation.
"I believe through this case, media played an important role to pressurise the government to take some measures for protection of women. I hope because of media the family will also get justice for the girl," said Saeed Ansari, anchor of Hindi news channel Aaj Tak.
"I agree there are hundreds of cases of gang rapes in India, which are not reported at all. Maybe because this case took place in the capital, we are more interested in covering it," he added.
Tragically common occurrence
The case has once again highlighted the question mark which still currently hangs over the issue of women's safety and security in India, where gang-rapes are an unfortunately common occurrence.
The central Indian state of Madhya Pradesh has witnessed perhaps the highest number of gang-rapes in the country.   Despite some 824 gang rapes having been reported in the state's assembly records over the past two, these attacks rarely make headlines in national newspapers.
However, the recent case in Delhi has shocked the nation and became the focus of television, newspapers and online media coverage.
For the first time, the Indian media have made a concerted effort to bring this issue to the forefront of the national agenda.
Editor in chief of the Guwahati-based English-language news portal, Times of Assam, Dhruba Jyoti Deka has questioned the media's failure to cover similar gang-rape cases in the past.
"Brutal gang-rape in India was never new to us. The national media hiding past brutal gang rapes is responsible for today's situation. Corporate driven national media never try to reach the poor and deep root of the society."
Media encouraging a "change in mindset"
Girish Upadhyay, resident editor of Hindi Daily, Nai Dunia feels that media coverage could contribute to a speedy resolution of the case.
"The case has shaken our conscience. We are now much more concerned about protection of women. Such cases deserve media coverage and that is something media has done. In a way media has been successful in bringing the change in the mindset of the people for better."
Former South Asia BBC producer and Knight International Journalism fellow Shubhranshu Choudhary feels that the particularly horrific nature of the recent case in Delhi has led to the unusually high levels of interest.
"It was raised in press because it happened in Delhi. I think it was good but I hope they extend their horizon beyond Gurgaon. This nation is a bit bigger than Delhi and our metros," said, Choudhary, adding "it was great that people came out to protest."
"I hope they do the same for the rape of tribals in Indian forests. But it is good that they came out and media covered the events," he added.
The public want the government to make an example of these criminals and take a stand against sexual assault and violence against women, and they are hoping that the case can work as a deterrent for the future.
Power of social media
Another important aspect of recent coverage has been the role of social media.  For perhaps the first time, internet and social media have been utilised as tools to mobilise public support throughout India.
People are now raising their voices through Twitter, Facebook and other social media, expressing their frustrations against the government and administration.
Following news of the case reaching the masses, the huge crowds of protestors taking to the streets provide an indication of the growing strength of the internet and social media in harnessing public support.
People have contacted each other and established platforms from which they have campaigned for governmental action, with the intention of ensuring justice for the victim and offering protection for all Indian women.
This outpouring of public outrage was not accidental; it was organised through social media and other messages which brought people – especially Indian youth – together in support of a cause which they feel has become extremely important in their country.
Platforms such as the Facebook group 'Gang Raped in Delhi' and 'Justice for Raped Girl in Delhi' have united people in expressing their hopes for a future free from similar cases
Hashtags related to gang-rape and rape have been trending in recent weeks, with many taking to Twitter to spread news about the case. Numerous other online groups have also been formed, including 'Delhi Women Safety' which offers updates on the case, as well as information and  advice for women on how best to protect themselves.
All over the world, the impact of media and social media has been witnessed in recent years, with online platforms becoming increasingly powerful mechanisms for mobilising popular support.  India is no exception, and the media coverage of this particularly horrific case and the online response has applied pressure to the authorities to deliver justice as soon as possible.  Mindsets have been changed and it seems that people are no longer willing to accept rape and sexual assault as "a simple fact of life." People in India are demanding change, and they are harnessing the power of modern media to make their voices heard.
This article first appeared on our partner's website here.