Hong Kong migrants, rights groups protest execution of Rizana Nafeek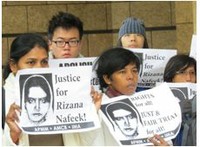 Dozens of Hong Kong-based migrant workers, including Sri Lankans; migrant and human rights groups, protested today the execution of Rizana Nafeek, a Sri Lankan maid, in Saudi Arabia.
Nafeek was executed on January 9 for the death of her employer's child. The Government of the Kingdom of Saudi Arabia proceeded with the execution ignoring appeals and serious concerns that she had been denied fair trial in the Saudi court. The judgement of the court relied on Nafeek's confession taken under duress and in absence of an interpreter.
Six days after Nafeek's execution, the Asian Human Rights Commission (AHRC), who has campaigned for her case since her conviction for capital punishment in 2007, had written to the UN High Commissioner and the President of Sri Lanka, strongly urging them to initiate an inquiry into the verdict and her execution.
For details about this, read here; and the AHRC's campaign website: Save Rizana.
Along the streets in Wan Chai and outside the KSA's Consulate building, protesting migrants workers–including Sri Lankans, Filipinos, Indonesians–were chanting "Justice for Rizana Nafeek!" as they marched towards the Consulate. You can view the 45-minutes recording of the protest here.
"We told them that we were shocked, that we were angry because justice has been denied. We reminded the government to change the law (death penalty) and to make sure this will not happen again," said Elizabeth Tang, coordinator for International Domestic Workers Network (IDWN), who met representatives of the Consulate.
The protest was organised by the Asia Pacific Mission for Migrants (APMM), a regional non-government organisation advocating rights of the migrants, and numerous migrants organisations based in Hong Kong.