"Is employment a human right?" was the question posted on social media for the latest round of our 360 Degrees project. The joint project by RNW's Arabic Department, Cartoon Movement and media partners in the Arab region aims to encourage people to look at the world from different perspectives. People are invited to tweet their views using a common hashtag: #360D, and artists from Cartoon Movement create drawings based on the tweets that inspire them.

The second month of 360 Degrees focuses on employment. Or rather the lack thereof, as unemployment is very high among young people in the Arab region are unemployed. Of course employment is a human right, was the most common reaction of our readers on Twitter and Facebook – but the real discussion arises around the question of who's responsible for providing the jobs.
No jobs without a healthy economic situation. "Last year was the year of politics and revolution in the Arab world, 2013 will be the year of economy," expects Baher Emad. Another commenter said that "everyone can make a difference".
Work-not-in-progress
A comment left on Facebook by Awd al-Awa inspired a whole range of cartoons:
"It is better to look for a job rather than waiting for it… But it is the government/state which is supposed to provide jobs for all."
In his reaction, cartoonist Pedro Molina shows us that even the 'worker' in the well known work-in-progress traffic sign is waiting for a job.
Several other artists also used the traffic sign in their drawing. A few examples: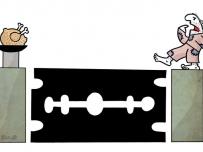 And this cartoon by Romanian artist Pavel Constantin.