From Rio to Delhi – Art and Nuclear Awareness – Uranium Film Festival is travelling to India
This post is also available in: Spanish, Portuguese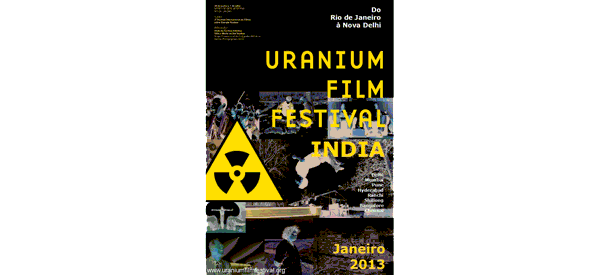 After taking place twice in Brazil and once in Portugal and in Germany, the International Uranium Film Festival is now travelling to India. Documentary film maker from India, Shri Prakash is organizing the festival in New Delhi, Shillong, Ranchi, Pune, Mumbai, Hydarabad and Chennai. The Uranium Film Festival of India will start on January the 4th in the noble Siri Fort Auditorium of Delhi with a selection of documentaries and movies about uranium mining, nuclear energy & radioactive accidents, atomic bombs and new uranium weapons. At the end of its travel to India the festival will also be a part of the VIBGYOR International Film Festival (7th to 12th February, 2013) in Kerala.
Last October the highlight of the Uranium Film Festival in Berlin was the screening of four films about the radioactive disaster of Goiânia (Brazil), that happened one year after the Chernobyl accident. The festival in Berlin, from the 4th to the 12th of October, showcased more than 60 films. Besides three Brazilian film directors, several other directors from USA, Sweden, Italy, India and Germany were also present in Berlin and took part in an active discussion with the public. The Uranium Film Festival – in Portuguese Urânio em Movi(e)mento – is the only film festival that tackles all nuclear issues: from exploration and mining of radioactive minerals like uranium to nuclear energy production, atomic waste, nuclear medicine, atomic bombs, nuclear war and nuclear or radioactive accidents.
After India this edition, the 3rd International Uranium Film Festival will be held again in Rio de Janeiro, from the 2nd to the 12th of May, 2013, in the Cinema of Rio de Janeiro´s Modern Art Museum (MAM). Filmmakers and producers can see the call for entry on the website. The International Uranium Film Festival of Rio de Janeiro accepts short and feature length films and videos in the following categories: narrative, documentary, experimental, animation and also for special screenings image films. Deadline for film submissions is 31st January 2013.
Contact: